A Long Walk by the Salinas River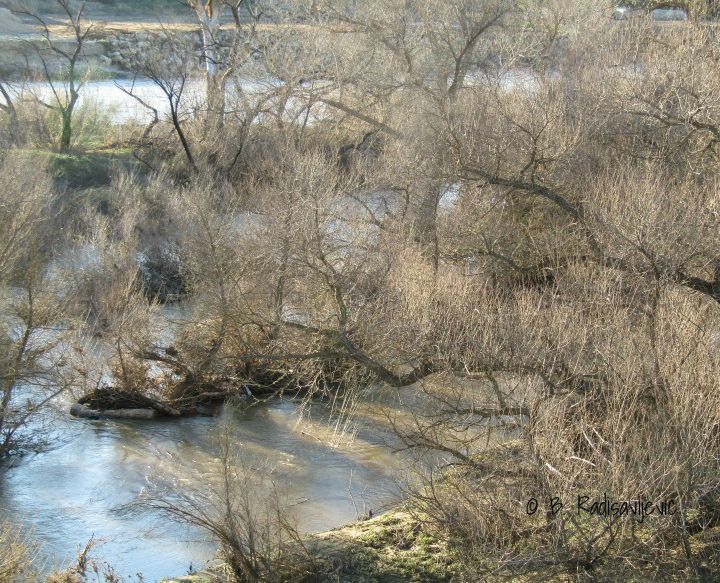 Paso Robles, California
February 12, 2017 10:31pm CST
Sometimes when we make a plan, we get sidetracked. Yesterday the first part of my plan was to shop for groceries before the rain started. However, the rain started just as I was getting in the car to leave. I expected to come straight home. When I finished shopping the rain was gone and it was a beautiful day. I saw some photo opportunities I didn't expect, and parked on the street and walked a couple of blocks to take pictures. I got back in the car, planning to go straight home. That didn't happen, either. The particular road I took home passes the river and I could see how full it was as I drove. I had to get photos. I parked on the only street from which I could access the river trail. I then walked the trail to the next main street that had a bridge. My plan was to take pictures of the river from the bridge so I could look down on it for the full width. As usual, I photographed everything on the trail that looked interesting. I spent way too much battery power on trying to capture the birds and bunnies that I passed. They were usually too fast for me. I took small detours to take pictures of weeds, shrubs, oak trees, the river, brush the river had covered and bent forward, driftwood, etc. I finally got to the bridge and walked to the center of it with my camera. I took about five photos there and the camera battery died. I'd been afraid that would happen. I knew I should have brought my camera shoulder bag that contained space for both cameras and had an extra one inside. My return to the car was much quicker than my walk to the bridge. There were no pictures to take, so no more detours were necessary. I got very tired on the way back. At one point I was afraid I wouldn't make it in a timely manner, but after a rest stop on a convenient trailside bench, I was able to continue. I walked a total of 1.84 miles not counting detours for photos. I took the photo on one of my detours. You can see a couple of the channels of the river if you peek through the trees. I did use a zoom lens to get a closer look. I wish there were room to share more of the photos with you. For some reason my photo didn't load. I'll try once more and then talk to @goaskalice if I don't succeed this third time. Have you done anything you didn't expect to lately or made a plan and spontaneously changed it?
4 responses

• Canada
13 Feb 17
I very rarely make plans because they never seem to go that way. I am more of a spur of the moment type of person. I look forward to seeing some of your pictures when they get the picture upload things fixed on here. Sounds like a beautiful place that you were photographing.

• Paso Robles, California
14 Feb 17
It was a peaceful place. I only saw about five other people on the whole walk.

• Canada
14 Feb 17
@bagarad
Oh that would be very nice. I love places like that.

• Paso Robles, California
14 Feb 17
@Happy2BeMe
I was able to upload the photo now, so you can see it.


• Bunbury, Australia
13 Feb 17
We often seem to need to change our plans for one reason or another.

• Paso Robles, California
14 Feb 17
I didn't have to change my plans. I just wanted to.

• Paso Robles, California
14 Feb 17
I was finally able to shrink and upload my photo of the river if you want to see it.

• Bunbury, Australia
15 Feb 17
@bagarad
That's a really nice photo. And the river looks a great place for taking photos.


• Philippines
13 Feb 17
Looking forward to seeing those photos! As for your question, once I have a plan, I do my best to stick to it. I'm spontaneous but not as much.

• Paso Robles, California
13 Feb 17
I can never resist a promising photo walk -- especially if the exact opportunity may not present itself again.

• Philippines
13 Feb 17
@bagarad
I need to go on a photo walk soon.

• Paso Robles, California
14 Feb 17
The photo is attached now of the river.


•
13 Feb 17
I do things according to my plan. I don't want to ruin my schedule because of spontaneous changes.

• Paso Robles, California
14 Feb 17
If I always stuck to my plans I'd lose some of life's greatest pleasures.