All Thumbs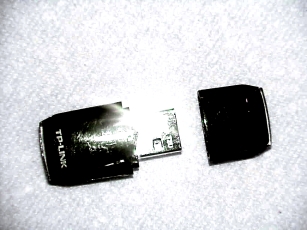 Goodfellow, Texas
February 13, 2017 10:45am CST
All Thumbs - There have been some unusually good developments made by the techies during the time since last I spent a penny or two on computer gadgets. The "TP-Link" thumb drive "wireless dual band USB adapter" being one of those. There is really no need to go through a detailed explanation of how this little gadget works with my computer to enable it to communicate with you Mill Otters (My Lotters) over the Internet, nor could I possibly explain that about which I know but this much...(zero much). You plug the thing into one of the computer's USB ports, and if you have a Wi-Fi-producing Internet modem nearby, ipso-facto, you are connected. The little thumb drive cost only $27. It takes the place of my "TP-Link" router box and the necessary two Ethernet cables needed to connect the router to the desktop computer. What a find that little guy was. A 27-buck ticket to MyLot heaven. Image source: Gus Kilthau
3 responses


• Goodfellow, Texas
13 Feb 17
@pgntwo
- Friend PGN - Yes. Like the time the professor tried to install a new thought into my little brain. -Gus-

• Garden Grove, California
20 Feb 17
@Ceerios
lol lol you are too modest you have an amazing brain wow


• Garden Grove, California
20 Feb 17
that would be neat to have Gus

• Goodfellow, Texas
20 Feb 17
@Hatley
- Ms Patsie - That little thumbdrive (and it is really little) cost $27, a lot of bucks for folks like you and me, but it beats the rest of the stuff it usually requires to get onto the Internet. The brand name is "TP-Link." My Wi-Fi source is out in the kitchen on the far side of the house so the thing is quite a powerful signal grabber gadget. To do that same task using fairly low-cost gear (a TP-Link Router, and 2 Ethernet cables) costs about twice as much as does that little thumb drive. -Gus-

• Garden Grove, California
20 Feb 17
@Ceerios
my son wou'ld know all about that

• Bunbury, Australia
14 Feb 17
This might as well have been written in a foreign language. Well, it was a foreign language to me. You should know you're supposed to use English!


• Goodfellow, Texas
14 Feb 17
@JudyEv
-Ms Judy - I hear what you are saying, In English - You plug the thing into the computer, and if you have powered up that Internet box within range, the little black gadget gets your computer onto the Internet so that you can reach out and touch MyLot. -Gus-

• Bunbury, Australia
14 Feb 17
@Ceerios
That's sounds a great system. I'm glad it's working for you. :) Thanks for the translation.