Decisions, Decisions, Decisions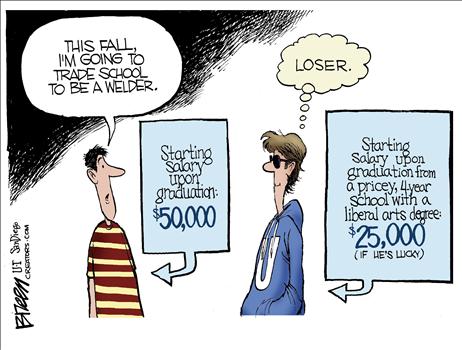 United States
February 14, 2017 11:29am CST
I got the most amazing Facebook message today. It was from a woman I have known since about 1978. Her son is a preparing for his senior year of high school and she needed my advice. We live in different states and have never met each other's sons. Her son has a 3.5 GPA - which is an "A" grade. So, she wondered if she should let him slide through his senior year or continue with college prep. I went to a private college and am working as a call center representative. I'm also still paying back my student loan. So, I told her he'd be better off going to a trade school. She agreed with me and said she had already told him that. But, the school has indoctrinated him into believing college/university is it. There's a lot of truth to the picture I included. For those of you familiar with education and the workforce of these United Sates, what do you think? Would your advice be to go to trade school or college?
3 responses

• United States
14 Feb 17
I don't have kids. But I think either a community college, or a trade school.

• United States
14 Feb 17
Either would offer certification for a trade.


• United States
14 Feb 17
Ultimately, my friend's son will make the decision that feels right to him. But, for now, she is trying to get him to lean more toward going to a trade school, rather that going from college straight into debt.