Planning to Work on These Today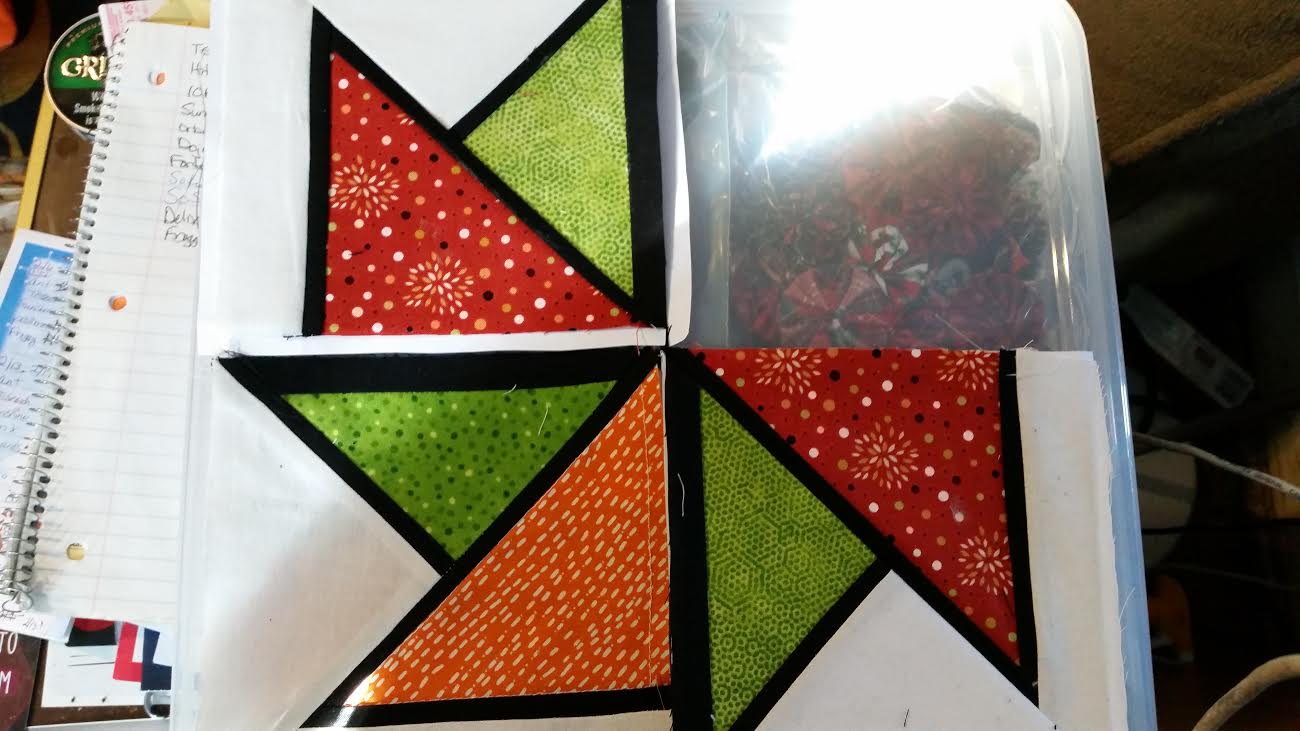 United States
February 16, 2017 11:52am CST
I spent the last hour or so cleaning up to make room to get my sewing machine out. I really must take the time to work on this project or it won't be done before April 24th when it's due. It's this years challenge project for quilt guild. We bought the "kit" which contained the instructions for the challenge and 2 pieces of fabric, a fat 8th in the green, and a fat quarter of the orange. We have to use those fabrics plus black and white in the project. It has to be some sort of star, and they encourage us to do paper piecing although that is not a requirement. The 2 colors are the ones that are in the 2 pieces in the picture. My plan is to make 4 flowers, but after reading the instructions I don't know if I can add other greens and oranges to it or not. I just put a call in to the guild president to ask. If we can't then I guess I will be done a lot quicker than I had planned. I had to leave her a voice mail but I have 2 more blocks in the fabrics they gave us that I hope to get done today while I wait to find out. Whew! Time to get started!
10 responses


• United States
27 Aug 17
Interesting that you call it typical. Do other countries not quilt as we do here? Here we feel like it's pretty much a lost art like so many other things due to technology.



• United States
27 Aug 17
I didn't totally finish it in time, but it hung up anyway. I finished it off adding yo-yo's over my seams not matching a little later at a quilt retreat.

• United States
29 Aug 17
@marsha32
Here for the kindness rocks people started quilt ones where each person painted a square before moving it along to the next person. One was just anything people wanted to paint. The others were to be painted like actual quilt square. I added my touch to a few quilt rocks.


• United States
27 Aug 17
So glad that project is done, but now I can't do anything with it until after a quilt show in June of next year because my guild is asking us to share them there.

• United States
27 Aug 17
I love how this turned out. I'm behind.....of course, on seeing comments!

• United States
17 Feb 17
This is very pretty and reminds me of a stained glass window.

• United States
27 Aug 17
It is a pattern from the stained glass paper pieced flowers book.

• Daytona Beach, Florida
16 Feb 17
Well best of luck to you. Hope it works out well.

• United States
27 Aug 17
I really like the way it turned out, which I'm sure I did share the final finished project here too.

• Kakamega, Kenya
16 Feb 17
Work hard on it. I wish you the best

• United States
27 Aug 17
I need your name, Eagle Speed, to get all the things done that I would like to.

• United States
16 Feb 17
So exciting to have a project to work on!! This one will be a beauty due to your amazing talent.

• United States
27 Aug 17
And stressful to have projects that have a deadline..... Of course maybe I need more deadlines to actually get things finished.