My brain is clogged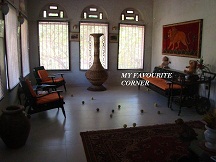 India
February 17, 2017 5:13pm CST
Memories, memories, memories. That is what is happening to me. There are so many memories that they fight to take turns. Should I deal with my travel memories, my memories when I was in school, my marriage preparations,my married life, my office life, my life with siblings, my first internet experience. There is just one thing good about this clogging and that is I get ideas to post here.

I sometimes wonder when users here keep grumbling not knowing what to post. Just get to your memory folder and there you will find enough and more ideas. What are you thinking of now?
7 responses


• India
18 Feb
Just sit in your favourite corner and memories will start flooding your brain.


• New Zealand
18 Feb
@allknowing
and it can delightfully occupy an entire day!

• India
18 Feb
@valmnz
That image you see here is my favourite corner where I sit and reminisce.


• Charlotte, North Carolina
18 Feb
Thinking about getting off this site and accomplishing other things that need to be done!

• India
18 Feb
To remain insane we need to do that (lol)

• Charlotte, North Carolina
18 Feb
@allknowing
Well, here I am again, yet, still. Really should go do something else. . . soon, very soon.

•
18 Feb
I agree, memories give good ideas to post here.

• India
18 Feb
It is so easy. I am sure everyone has memories of events good and bad

• Bunbury, Australia
17 Feb
Certainly we all have a heap of memories to draw on.

• India
17 Feb
I know you have from the great posts you write here



• India
17 Feb
That is what life is all about - creating memories.


• United States
17 Feb
did you need to call the brain clog to the plumber.




• Philippines
18 Feb
there are some memories that need to be repressed or suppressed.