The Luxury of an Ottoman Palace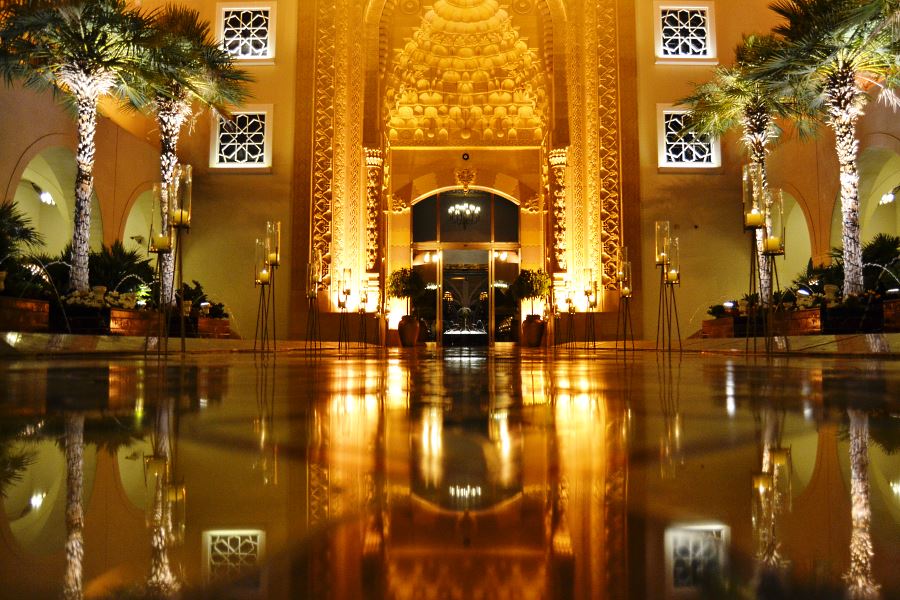 Austin, Texas
February 18, 2017 1:23pm CST
Someone tweeted this link and I'm re-sharing it here. Wanted to make a comment or ask a question, but thought it might offend the tweeter.
So I'm asking y'all!

There's a new luxury hotel in the United Arab Emirates:
Jumeirah Zabeel Saray
. "All the luxury and the refinement of an Ottoman palace." Uh huh. ~ Does UAE have anything that is
NOT
luxury? I mean …


~ How do ordinary people live in the UAE? The hotels have to have workers. ~ Do the employers provide the workers with a living expense allowance for food, clothing and shelter? I just can't imagine low rent accommodations and a cheap grocery store somewhere in the UAE.



The Jumeirah Zabeel Saray is a luxurious hotel located on the West Crescent of The Palm Jumeirah in Dubai. It is one of the numerous Jumeirah hotels in Dub
10 responses


• Chile
19 Feb 17
Very interesting picture. Thank you!

• Switzerland
19 Feb 17
@marguicha
This is a country where the rich are even richer and the poor, when they are not more useful to their economy, are deported.


• Bunbury, Australia
19 Feb 17
I guess there are huge divides between the rich and poor. There would have to be.

• Austin, Texas
19 Feb 17
LOL. Is that an educated guess OR a shot in the dark guess?



• Bunbury, Australia
19 Feb 17
@cmoneyspinner
I know in Luxor those that work in the hotels live in very impoverished areas. But the hotels aren't as luxurious as this.

• Eugene, Oregon
18 Feb 17
I am sure the workers, many imported from other countries, live poorly.

• Austin, Texas
18 Feb 17
Not just live poorly. But live where? It's not like in America where you have low income housing. Do they have that in UAE?

• Chile
19 Feb 17
Our friend
@LadyDuck
just placed a picture of the poor dwellings of the workers.

• Switzerland
19 Feb 17
@cmoneyspinner
It's not even "low income houses", they are thorn down places. The poor workers that have been deported have not even been paid. Nice country!


• United States
18 Feb 17
I think they import a lot of the labor and they probably live very poorly. After they are finished with the workers, they deport them. In fact, I just read an article about Saudi deporting 49,000 Pakistanis.

• United States
18 Feb 17
@cmoneyspinner
Yes, and they reiterated that many were suspect terrorists..hmmm. Of course, we do not know about the article if it is actually fact, but somehow I believe it.

• Austin, Texas
18 Feb 17
@TiarasOceanView
- Uuummm … 49000 of them? So? Nobody did any "extreme vetting" before they got let in? Ah well! Guess they found them when they found them and sent them back where they came from. Hmmm? Although if they were in fact terrorists, and not just "suspect terrorists" they probably already did what they came to do and going back home is fine cause they already accomplished their "mission". Whatever that mission was. Just a thought. We'll know if any buildings explode long after their departure. Just thinking!


• Chile
18 Feb 17
Beautiful. As for riches, in a diferent type of architecture, you can check online the mansions of the richest people in the US. I did it about a month ago from a link that mylot provided.

• Austin, Texas
18 Feb 17
I don't want to look. I'm still upset with Oprah because she has a mansion in The Bahamas and didn't invite me.


• Chile
19 Feb 17
@cmoneyspinner
You should see the one she has in the US! Did she invite you there?

• Austin, Texas
19 Feb 17
@marguicha
- NO! And that makes me even more angry!




• Philippines
20 Feb 17
I wonder if that hotel is really being patronized well. I presume only the rich can afford their rates. But oh, that picture of their lobby is really so luxurious looking. And it's a wonderment that those seemingly palm trees thrive being inside the hoteL.

• United States
10 Mar 17
Beautiful place, but i'm sure only the rich can afford to go there.

• Austin, Texas
11 Mar 17
I'm sure that's the reason it was built that way.


• Austin, Texas
27 Feb 17
Yeah. Obscene is a good description. Although I think you're being too kind. When people pride themselves on how lavishly they can splurge to build a place, you know they have enough "extra pocket change" to make housing that is at least livable for their workers. I grew up in low income housing in the United States. It wasn't paradise. But we did have electricity, running water, and a gas stove to cook our meals.

• India
23 Feb 17
Well, I don't think everyone is rich in Dubai or UAE. However, it could be possible that the income disparity could be lower than in countries like US, UK etc.

• Austin, Texas
24 Feb 17
I only know what I see on TV about UAE; and based on what I see on TV, it's not a place that's on my "Bucket List of Places to Visit Before I Die". Honest to goodness, I'm terrified that the whole place is going to get hit by a freak tsunami or a hurricane. And wouldn't you know it? The tsunami or hurricane would hit the place when I'm there! No thanks. Call me paranoid but I'd rather stay at home and visit from a distance.