The Illustrated guide to Glass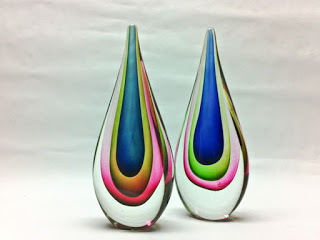 United Kingdom
February 20, 2017 3:29am CST
The illustrated guide to glass was written by Felice Mehlman in 1982 and published by Phaidon Press Ltd. I do not have an image for this book so I submitted a picture of a pair of glass sculptures instead just to give you some idea of what this book is about. I brought The illustrated guide to Glass from a charity shop and it cost me one pound. If you had brought the book new back in the 1980s it would have cost £9.95 which was a lot of money for a book in those days. So seeing the original price made me think that this book would be an interesting reference book to have on my bookcase. Some time ago I went to a local antiques fair where a lady was selling her collection of glass wares. She had lots of different glass items on her stall and I brought some vases, a scent bottle and an ash tray from her. I had also previously brought from another antiques fair a 1960 pop art glass vase. So I decided to put all this glass ware together and take it to auction to sell as one lot. I thought that I had brought all this glass ware for some really good prices and I was confident that I would make a profit on them. However, I was soon to be disappointed on the day of the auction when the glass sold for much less than I had paid for it. Perhaps I should have read The illustrated guide to Glass a bit more thoroughly before I brought the glass.
2 responses

• Boise, Idaho
21 Feb 17
Most antiques go out of popularity. The trick is to keep them until they are popular again.

• Boise, Idaho
21 Feb 17

• United Kingdom
22 Feb 17
@celticeagle
You think something has gone out of fashion, and then you find it is popular again. It is the same with clothes and shoes.


• India
20 Feb 17
Yes antiques are bought by good examined.

• India
20 Feb 17
@millie02
No ..but would like in future but after examining a lot.

• United Kingdom
20 Feb 17
@pammooratan
Do plenty of research before spending any money.