Happy (Not Our) Presidents Day!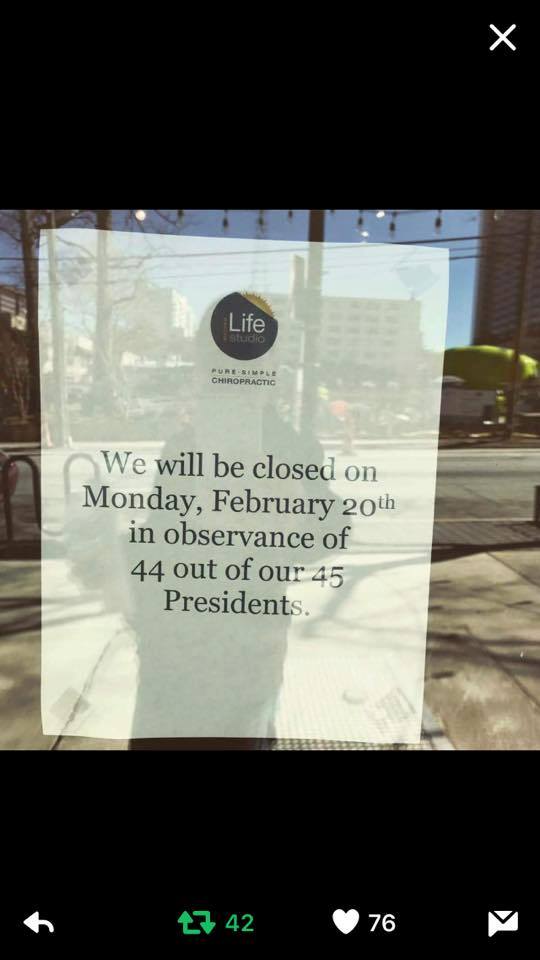 United States
February 20, 2017 2:05pm CST
It's interesting that for the first time in my memory Presidents Day is being observed by protests all across the nation against the current occupant of the White House, or at least PART TIME occupant when he's not wasting our tax dollars by taking weekly trips to Florida. I choose to take this time to reflect on our previous 44 Presidents, most of whom I wasn't alive to personally observe them in action, but of those whose presidencies I have lived through all of them were qualified and fit for the job whether I supported or agreed with them or not. None of them kept me awake at night in fear of what shoe would drop next and none of them made me feel a sense of dread and doom as I realized all the things my generation and those before me had worked and fought so hard for would likely soon be gone, perhaps forever. So, thank you, President George Washington, President Barack Obama and the other 42 that came in between, thank you for being Presidents of all Americans and for at least trying to unite rather than divide us. We all owe you a huge apology for allowing your hard work to go for naught.
3 responses

• Bunbury, Australia
21 Feb 17
It's probably a good thing we don't have a Prime Minister's Day here.

• Bunbury, Australia
21 Feb 17
@anniepa
Compared to 'Agent Orange' he is an angel! But Turnbull's party just scraped into power which means over 40% of the population wanted the other party so I think there would be bound to be some dissension.

• United States
20 Feb 17
I hate saying it...detest it, really...but like it or not, Dampnut is my President...for now...

• United States
21 Feb 17
He's not mine nor will he ever be. I realize it's all just an attitude thing but I refuse to give him that respect, even if he'll never know it. He's a waste of oxygen and human flesh and a disgrace to humanity. If I have more energy tomorrow I'll let everyone know how I REALLY feel! By the way, love the nickname.

• United States
21 Feb 17
@anniepa
Lord J Dampnut is an anagram of Donald J Trump

• Cuyahoga Falls, Ohio
20 Feb 17
I agree with you 100%. I've seen some tweets about it this morning. One said to POTUS, you're fired and not our Presidents DAY. It had gotten a lot of faves and RTs out of it.

• United States
21 Feb 17
I wish we have a way to recall Presidential elections the way some states can do with their Governors. I have a feeling he wouldn't be able to win that kind of challenge. I mean, obviously he still has some of the really rabid "fans" but there has to be a lot of voters with big-time buyers' remorse.

• Cuyahoga Falls, Ohio
21 Feb 17
@anniepa
So do I. Maybe we can impeach him for his treasury.