Virginia Rep. Dave Brat (R) says, "getting rich will solve the whole environment thing"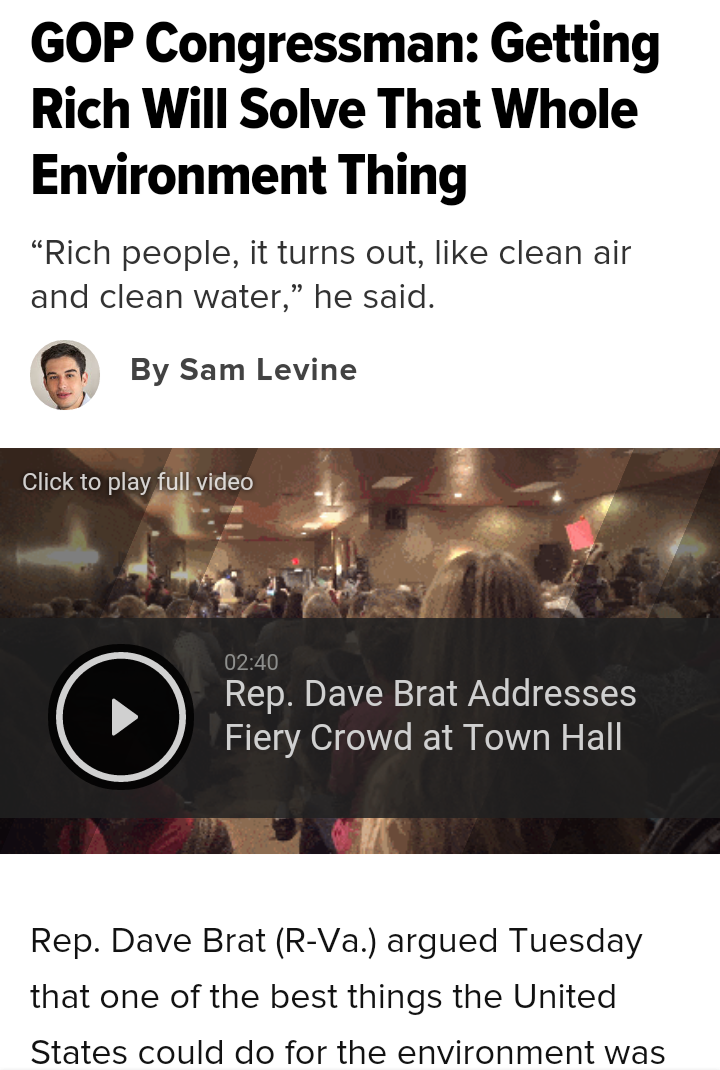 United States
February 22, 2017 2:08pm CST
He says that the "rich like clean air and water, too!" A few days ago, President Trump signed a Congressional Republican backed bill to reverse the "Stream Protection Rule". Now the Coal Industry can LEGALLY dump coal ash into our rivers and streams. Now Republicans want to eliminate the EPA. Yeah, Rep. Brat, giant industry CEO's and the members of Congress thst they bribed will get rich! It's obvious that Republicans don't care about clean air or water. Rep. Brat doesn't know what he's talking about!
1 response

• United States
23 Feb 17
That they don't. They are animals in my eyes. I never understood people supporting a party of liars and haters. But they do. I find that very strange. We need to take control back in 2018. If we can get the majority in the house and senate, we would be in pretty good shape. Then we have to take the whitehouse back in 2020. But, by then, all that illegal dumping is going to cause some major problems. I really believe they want to kill off the population.

• United States
23 Feb 17
#inertia4 ~I came to the same realization. I think that the Republicans want the poor, sick and elderly to die. An Indiana Republican actually said something about letting the poor "wither away and die". Check out my MyLot post, "What is the GOP's motivation for Healthcare?" from Feb 21st.

• United States
24 Feb 17
@flpoolbum
I agree with you on this. Yes, that is what they want. They want only the rich to survive. But they don't see that without all the people they will have nothing either. I will check out that post.