Mount Guiting - Guiting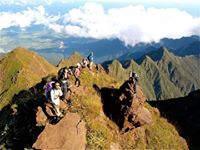 Philippines
February 23, 2017 12:58am CST
I am going to discuss here, one of the prides of our beloved province Romblon, Philippines. Though it is located in the island where I does not belong, i can still say that this ours to be talked about. Guiting - Guiting because of its saw - tooth peaks. By looking at the picture, you can really see the shape of its peaks. Its peaks are named Mayo's peak, Knife edge, Kiss the Wall, and Peak of Deception which is also called as "Peak of Decision" because from here you will have to decide whether to proceed or not. This said to be spirited mountain was discovered as a mountaineering hotspot during the early 1980's It possesses the most diverse forest in the world, being the habitat of up to 54 endemic plant varieties and a home to fascinating endemic flora and fauna. These also include four species of rodents and a kind of bat discovered only in the mid-1990s and found nowhere else in the world. Many mountaineers have tried conquering its summit. Some succeeded but some failed or died. Mount Guiting - Guiting is truly one of the wonderful creations that stands in the heart of the Island of Sibuyan, Romblon, Philippines.
4 responses

• Philippines
23 Feb 17
beautiful but deadly mountain range. we also have a mountain range here, the famous Sierra Madre mountains.


• Philippines
26 Feb 17
@magallon
i am not quite sure my friend. it is because the mountain range is a town away from my city, and although the mountain can be seen from afar, it is actually several kilometers away from where i am

• Philippines
27 Feb 17
@ridingbet
oh i see. Sierra is known to almost all Filipinos because i think it is written in our history books.




• Philippines
23 Feb 17
Wow this is very beautiful canyon of mountains, hope I can visit their someday.

• Roseburg, Oregon
23 Feb 17
Those mountains look really nice. Have you ever been there?