Sun Tea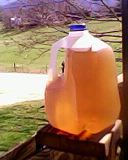 Boone, North Carolina
February 24, 2017 12:39pm CST
A perfect day for making good old fashioned sun tea. Easy enough to do with a gallon jug of water & a proper tea bag - you're just a few sunny hours away from enjoying crisp tea - with or without sugar. As kids - I think grandma used this notion to keep us entertained. I liked to check in on the jugs sitting on the porch - noting how the water darkens as the sun draws nigh in the sky with a real stout tea if you've left it out until dusk. From the looks of this batch, it's almost time to slice a lemon.
6 responses

• Canada
24 Feb 17
Wow very cool I never heard of sun tea before.

• Boone, North Carolina
24 Feb 17
thanks

my grandma mighta made it up - she was a rascal at times


• Canada
24 Feb 17
@SunnyShores
It could have been true back in that time. Things were so different back then.

• Wausau, Wisconsin
24 Feb 17
i know a couple people that make sun tea every year.

• Boone, North Carolina
26 Feb 17
you've got great friends ;)

•
25 Feb 17
It's my first time to hear of sun tea.

• India
24 Feb 17
It's a new approach for me.

• United States
24 Feb 17
I have made sun tea too!! Glad you reminded me of this. Definitely will do this in summer.

• Boone, North Carolina
26 Feb 17
Yea! I'm not crazy -- yet! LOL Thanks for chiming in ^_^