...... ANNNDDD talking about years flyin by, I can't wait for the hot weather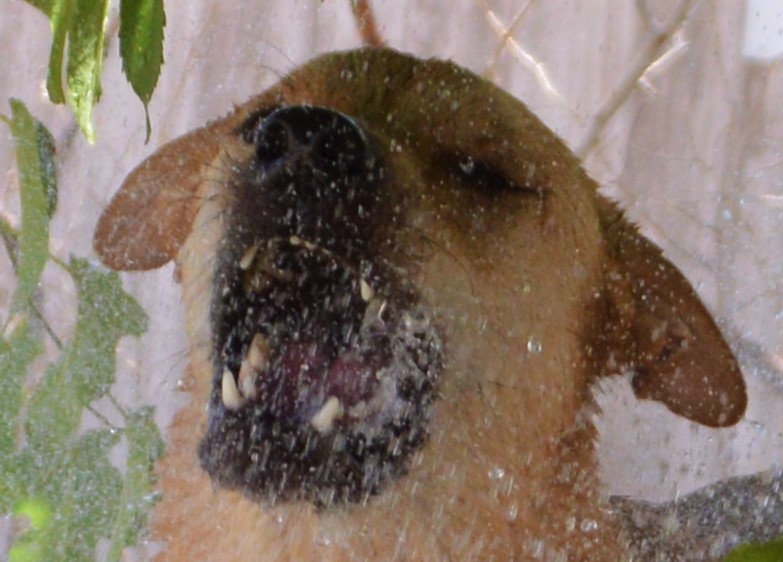 El Paso, Texas
February 24, 2017 2:10pm CST
Anticipation. Yeppppp. I can hardly wait. I want it to be hot enough without all these dreary winds so that I can play watersports with Ally. She still loves biting the water from the garden hose. And boy is it fun to watch. Naturally I get almost as wet as she does. Can you tell that's water spraying on Ally? Does your dog like to bite the water? Do you have a dog? Do you have kids that like to play in the water?
10 responses


• El Paso, Texas
24 Feb 17
Hhhhmmmm, maybe a neighbor would oblige


• United States
7 Apr 17
Water sports are fun. Sandy likes to play in the water too. She often comes home from the marsh soaked in the black gunky junk.


• El Paso, Texas
7 Apr 17
Thank goodness there's no gunky junk here .... I have the kiddy pool for her when it gets hotter.

• United States
9 Apr 17
@rebelann
Be very thankful. I actually think she likes playing in the gunky junk. She comes back just as happy as a pig in slop.

Of course she smells like one too.


• United States
9 Apr 17
@rebelann
Sandy is quite the huntress. When she kills something she drags it up in the yard and plays with it and rolls around on it. Keith will steal it away when she is not looking and get rid of the carcas and she will get a hose down.



• El Paso, Texas
7 Apr 17

yes, hopefully you'll remember the sunblock though.

• El Paso, Texas
7 Apr 17
Oh good
@DianneN
otherwise we'd have to nickname ya Red.



• El Paso, Texas
25 Feb 17
Ohhh, so she wasn't biting at water from a garden hose
@shaggin
I can see why she'd choke if biting the water from the tub faucet.

• India
25 Feb 17
Here in India we do not have extremes. It does rain and that is a season one cannot but notice. Other months just come and go.

• El Paso, Texas
26 Feb 17
That sounds like a nice climate, at least you don't get the freezing icy weather so many here talk about.

• India
26 Feb 17
@rebelann
I may not get it here but reading through posts about freezing winter it rubs on me (lol)

• Canada
12 Mar 17
When my grand-dogs go camping with us they spend a great happy time in the river. At home they all have kitty pools filled just for them. Yes they love the water.

• El Paso, Texas
12 Mar 17
Dogs do love to play in rivers. I remember back in the early 1980s when our end of the Rio Grande still had a water flow, I'd take my then pups out for a swim now and then, they loved it.

•
24 Feb 17
We have pitbulls and bulldogs at home. Not sure if they like biting the water. Haven't seen do such. I don't have kids.

• El Paso, Texas
24 Feb 17
It's a personality thing I think, I've seen some pitties go after the water but most would chew the he// out of the hose too. As for bulldogs I haven't a clue, I can't recall anyone I know owning one. The little I know is from videos on YouTube and I always got the impression that they were kinda calm and also seem to have breathing problems.

• United States
24 Feb 17
Ally sure has a great time with the water from the hose. Molly will not go near the hose and no way can the spray from the hose touch Molly. With a double-coat, Molly likes snow, ice and cold. Summer is not kind to Molly.

• El Paso, Texas
26 Feb 17
Yeah, that's the husky in her. By the looks of her I'd have figured she had that triple coat like huskies who have the downy kinda fur near their skin which keeps them warm all the time kinda like wolves too.

• Garden Grove, California
24 Feb 17
what a cute photo love it I no longer have a dog as I'm stuck in['a tiresome retirement center I used to of course and she also bit the water I'm longing for warmer weather too

• El Paso, Texas
26 Feb 17
Awww, I'm sorry you can't have a dog anymore, I'd be lost if there were only people around .... I don't trust people, a lot of them are disloyal and the loyal ones are hard to find.

• Falmouth, Jamaica
24 Feb 17
no i cant, The dog looks like a baby tiger. Where am from it is hot already, and But my dog doesn't Bite water. and i don't have kids.

• El Paso, Texas
24 Feb 17
Oh wow, Ally looks like a baby Tiger, how kool is that