Places I miss that have gone by the wayside #4: Media Play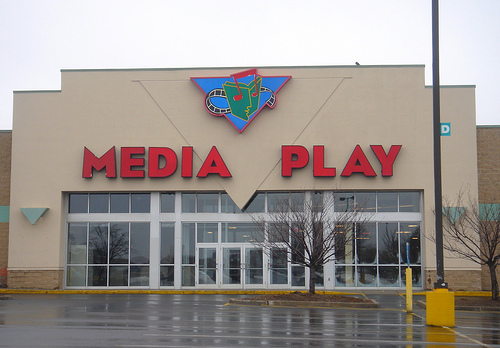 Richfield, Utah
February 24, 2017 3:16pm CST
I was rummaging through some old stuff not too long ago and came across some of my old posters, racking my brain to remember where I bought them, then it came back to me:Media Play! Oh that store was my paradise. A multimedia franchise that opened in the 90s, that place was always packed. There were 3 locations I remember:one in Millcreek, one in Taylorsville, and the one I miss the most:Ft Union in Midvale by my high school. I spent hours pouring over CDs, books, movies and the many posters and t shirts I wanted. They went out of business by the mid 2000s, and many locations are boarded up, or turned into other developments. Anyone here that had one by them that has any fond memores of this place?
6 responses

• United States
20 Mar 17
We never had these in our area so this is not something I can remember.

• Richfield, Utah
21 Mar 17
They weren't in all markets as I recall

• United States
27 Feb 17
I have never heard of it before


• United States
26 Feb 17
Oh I loved Media Play, we had a huge one in this area. Books, cds, dvds, computer programs.... oh yes !

• Richfield, Utah
26 Feb 17
Me too, many CDs, books, t shirts and X FILES memorabilia were bought there. The one by me even had book signings at one point, and the Taylorsville location had a signing by the old 60s Music group The Monkees. That was pretty fun to meet them, my mom got one of her VHS tapes signed by the band.

• Susanville, California
25 Feb 17
I didn't know about this place. I was in a very small town and at that time I was young too. I never heard of media play.

• Richfield, Utah
26 Feb 17
It was mostly in suburban shopping strip malls.

• United States
25 Feb 17
I remember going in one in Nashville (we never had them here), and found them to be lacking in selection and typically big-store overpriced. Despite the criticism, I will say I miss record stores.

• Richfield, Utah
25 Feb 17
I miss record stores too! There is actually one left in Salt Lake City that's been there since 1978. Awesome place .

• United States
24 Feb 17
I have never heard of Media Play, but I did have a good time in Blockbuster stores selecting videos. Blockbuster is no more. .

• Richfield, Utah
24 Feb 17
Oh blockbuster, how I miss thee... Blockbuster was ok, but I liked the mom and pop video rentals and the video rentals in the grocery store. They always had cheap rentals, plus obscure rare titles...