Along the Pyrenees (III) : Llivia, a Spanish enclave in France.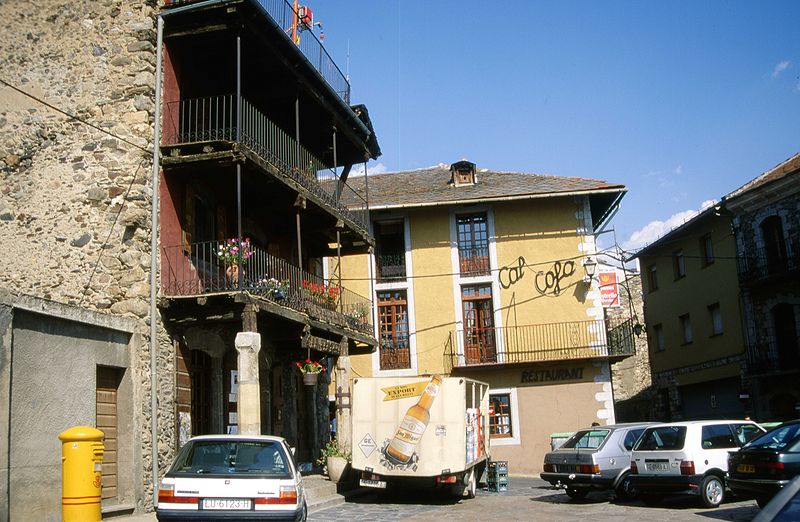 France
February 25, 2017 9:09am CST
Llivia (Pronounce it Liibia) is the only enclave belonging to a foreign country in France, and it is interesting to tell how it happened. I told in part I a few words about the Treaty of the Pyrenees, signed in 1659 at Pheasant Island between France and Spain. France had won a war and annexed Roussillon. It was decided that Cerdanya would be divided in two parts between France and Spain. As there were villages belonging to France in the Spanish part and to Spain in the French part, the treaty said that all villages belonging to France at the south of a line in the Pyrenees would be Spanish, and all villages at the north of this line would be French. Sounds correct, isn't it ? But treaties are like executive orders, they have to be written carefully. Soon after the treaty, the Spanish withdrew from the Northern part of Cerdanya, except from Llivia, arguing that Llivia was not a village, but a city ! Llivia had in the past a fortified castle who became the residence of the count of Cerdanya in 815 and the capital of Cerdanya, although it was nothing else than a castle with a few houses at the top of the hill. In 1177 the king Alfonso II of Aragon decided to build a real capital not far, at Puygcerda. In 1257 another king of Aragon authorized people to build houses at the feet of the castle of LLivia. A century later there were 21 "feux" (families were counted by the number of "fireplaces") counted in all Llivia. In 1463 France annexes Roussillon and a part of Cerdanya including Llivia. French are chased by a revolt in 1473. A few months later king Louis XI of France sends the troop, takes again the castle of Llivia, buy it to his owner and destroys it. In 1493 Cerdanya becomes Spanish again. With no more castle, Llivia is put directly under the protection of the king of Aragon, and in 1582 the emperor of Spain Carlos V who probably never went there gives to Llivia the title of "City". So Llivia has a mayor and a city council in 1659. Even if an inhabitant of Llivia looks like any ploughman from any surrounding village, it is a privileged bourgeois, and Llivia is not a village but a city. You understand it, France ? "Damn it, they got us !" said cardinal Mazarin, and he negotiated with Spain to have another treaty for Llivia. The treaty of Llivia, signed between France and Spain in 1660, decided that Llivia would belong to Spain, but that Spain would never fortify the "city" and would never send military to Llivia without the consent of France. In 1866 another treaty created a neutral road (a road without customs control) between Llivia and Puygcerda in Spain. A neutral road is something very interesting for smugglers, and the population of Llivia increased a bit. After the borders between France and Spain have disappeared the population doubled by the creation of a lot of shops to sell cheap alcohol and tobacco to French people. Shops in Llivia like in the rest of Spain are opened on Sundays, when they are closed in France. People from Llivia are speaking Catalan and the road and street signs are in Catalan, not in Castilian/Spanish. Today Llivia has about 1500 inhabitants, a small but interesting museum of pharmacy installed in the oldest pharmacy in Europe (from the 15th C), and some paintings from a disciple of Salvador Dali in its church. Last year a large Roman temple has been found. It reminds me that Julius Caesar called the place Iulia Lybica ; and to be sure that he was giving his name to a place that would become a large city he gave the Latin right to the inhabitants. It has been a failure, and the city was destroyed in 116. Then Hadrian sent a colony there to restore and populate it again... but some places are probably not destined to become big cities... Llivia is nice like it is, a big Spanish village in France. The picture shows the "Main Square" of Llivia, like it was in 1994. Photo by Jean-Pierre Bazard, Wikimedia Commons.
5 responses

• Bunbury, Australia
26 Feb 17
How interesting is that? We have a 'principality' in the middle of Western Australia. The farmer seceded from the rest of the country and calls himself 'King Leonard'. He has just abdicated to his son.

• France
26 Feb 17
A micro nation... And Australia does not send the troop

? There is a true principality in the Pyrenees, Andorra, and it is a weird one : it has two princes, who are now the French President and the Spanish bishop of Urgel. They authorized casinos recently, and it might become soon as famous as Las Vegas

. It will be the next discussion.

• Bunbury, Australia
26 Feb 17
@topffer
There is no end to the weird places on this beautiful planet of ours.


• Pamplona, Spain
25 Feb 17
Great write up about the Spanish Village. Did not know much about it to tell you the truth. I have been to Andorra and I know a bit more about that. Lleida is perhaps one of my favourite places. But really I like St. Jean de Luz and Hendaya I like both places and I love their Shops they sell real quality things. Not bought anything yet but that´s beside the point.

• France
25 Feb 17
I went to Llivia only once, and at first the goal was to do some shopping, but I saw their little pharmacy/museum, visited it, and it is interesting. For the rest it is a village like many others. I also know a lot more the Basque side than the Catalan side of Spain, although I always go to the same places. I like Hendaya more for its beach than for its shops, but it is a matter of taste

.

• Pamplona, Spain
25 Feb 17
@topffer
I like the Mountains in Lleida reminds me of going back into the past like a Cavemans time. I can picture Dinosaurs there if I want to. Its a magical landscape I like it. I like Hendaya and St. Jean de Luz I toured all the Shop windows over and over.

• France
25 Feb 17
@lovinangelsinstead21
I never visited Lleida. In Catalonia, I went several times to Barcelona and Alicante. I also spent a month in Elche when I was 18 or 19.


• United States
8 Mar 17
My goodness . . . so much fuss was made over this "village city"! And I have to wonder how it works for the people who currently live there . . . a country within a country (or am I saying that right?). On top of such a history, a Roman temple there too? Is this a place where tourists typically go to, or is this another hidden gem?

• France
8 Mar 17
It seems very weird that Spain battled to keep this "city", isn't it ? There are no more borders between France and Spain, and we have the same money, it is now an interesting village for the French to do some shopping, as many things have less taxes in Spain than in France. It is why the population has doubled recently. I went there to do some shopping and visited their old pharmacy, which is interesting, but I cannot tell that it is a touristic place of interest, except for shopping.

• United States
10 Mar 17
@topffer
I wonder what was the biggest appeal to want to keep this "city" - yes, very weird! I do see how having less taxes would be very appealing. I hope villages like that stay villages . . . I hate it when commercialism takes over and it becomes no different from everywhere else. That pharmacy museum must have been pretty neat!

• United States
25 Feb 17
It is a bit disappointing that the castle was destroyed. Sure would have like to have seen that. And, I never knew that France had a Spanish village in its midst. Very interesting, indeed. Have you visited Llivia?

• France
25 Feb 17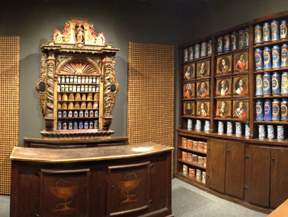 It was destroyed to not have the threat of a military place on the French side of the Pyrenees. I visited it once about 10 years ago when I was spending holidays in Perpignan. The museum of Pharmacy is interesting, because it has several items of the 16/17th C that you rarely see in these kinds of museums. The pharmacy belonged to the same family during 23 generations. It is surprising but quite no change had been made in this pharmacy between the 18th C and 1942 when it closed. It is a municipal museum now. I post a picture.

• United States
25 Feb 17
@topffer
Thank you for the photo! Amazing!