Dont allow discouragement betray you

6 responses

•
27 Feb 17
So right! Challenges motivate me to strive more.

• United States
27 Feb 17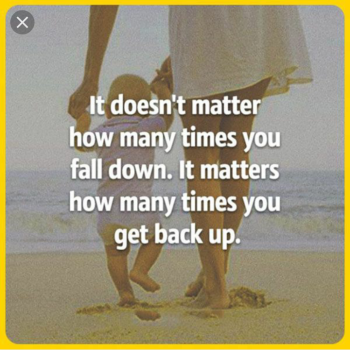 It can be difficult to do at times, but it's still a good way to approach life, head on! By the way, welcome to myLot!

•
27 Feb 17
It is said that you have lost the battle only when you stay down after the fall. Always stay strong in what you have chosen, no matter what you are facing. Thanks

• India
27 Feb 17
Yes what you say is true. But many give up facing the oppression and challenges for many years continuously as their will gets broken. So a strong will is the key. Where there is a will there is a way.[u][/u]

• New Delhi, India
27 Feb 17
Everyday is new, everyday is different; but the fact is everyday can't be amazing. The only way to keep yourself high is to stay positive and self motivation. One thing I strongly believe is, there is nothing in this world that can help you to boost your moral and keep you going except your own strong will and the inner positive approach.

• Philippines
27 Feb 17
The power of staying positive makes a difference