Dendrology of Street Naming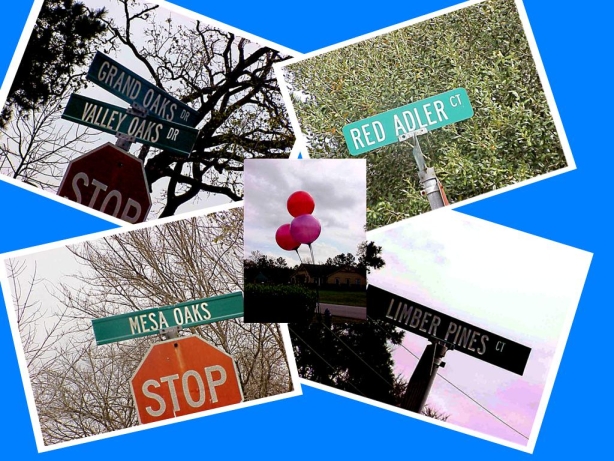 Goodfellow, Texas
February 28, 2017 1:05pm CST
Dendrology of Street Naming - Howdy to you all, my friends and apologists. There I went and pushed what is likely a brand new word onto you. I got the thought of doing so as I today again toured around this huge development out here in the boondocks. Allow me to clue you in as to the meaning of that word, "dendrology." As the good professor, Dr. William Harlow ( a dendrologist by training ) used to tell his students at the College of Forestry, dendrology is the practice of classifying and giving good names to plants - trees, that is. Dr. Harlow had authored a book on dendrology a book that each of us students was required to purchase - 30 bucks a book for its 200 photographically illustrated pages. What brought this dendrology book and Bill Harlow to mind today as I rode around the place on my little electric scooter were some of the street signs along the way. The development is named, overall, "Grand Oaks." I guess, for that reason, the street names are those of trees and their places in nature and in civilization, too. Mostly, the tree names encountered here are those with an oak flavor to them. For example, our street is named "Mesa Oaks," Some of the streets were gifted with names of other kinds of trees. However, Dr. Harlow was not present at the naming sessions. I figured that much out as I rode around on the scooter. Lumber is what folks make of tree wood. People cut down the trees and then make wooden boards by sawing them from tree trunks. You might suppose that it is "limber" workers who make "lumber." One interesting tree from which lumber can be made is the "red alder" tree ( alnus rubra). One interesting lumber-maker was a fellow named Joe Adler - and Joe also worked at this housing development. He was known hereabout as "Red" Adler. So I was not overly surprised to spot several posted street names, "Limber Pine Court" and "Red Adler Street" along my way this morning. Now I am going to be looking for more of the same tomorrow. Image: Street signs with strange "tree" names - Gus Kilthau
3 responses

• Bunbury, Australia
28 Feb 17
Nice collage of photos. I'm glad they're loading properly again. My favourite place-name is a creek in West Oz called Gabbyquoiquoi. I have a photo of the sign but can't find it at the moment.

• Goodfellow, Texas
1 Mar 17
@JudyEv
- Ms Judy - Well now, "Gabbyquoiquoi" is quite the name. Our old scoutmaster and the troop built a big cabin on some denswly wooded land in Connecticut - far, far from the ocean waves. He (they) named the place Saquassippi *after the Mohican Indian language (meaning where the river flows into the ocean) - but there was no river closeby and the ocean was miles distant. Funny how place names come about. -Gus-

• Bunbury, Australia
1 Mar 17
@Ceerios
It is indeed. If you go to 'search', 'tagged discussion's then type in 'gabbyquoiquoi' I've done a discussion on it and there's a photo. I don't know why I can't find the photo at the moment.

• Goodfellow, Texas
1 Mar 17
@JudyEv
- Ms Judy - The reason you cannot find that photo is because you have misspelled the name of the place - and that would be a most normal thing to have done. -Gus-

• Tripoli, Libya
28 Feb 17
Adler or Alder? I remember doing battle with a thin tome by a chap called Clive A Stace, "Plant Taxonomy and Biosystematics" decades ago. The dendogram was his stock tool in trade. Cladograms featured as well, cladistics being a branch of the same science (if you'll pardon the pun!).

• Goodfellow, Texas
28 Feb 17
@pgntwo
- Friend PGN - It is often a surprise that those "old" books are remembered right down to the names of authors and the difficult-to-spell nd pronounce the book titles, too. Wonder of wonders, I can drag the name of a little book out of my memory bank although it was more than 50 years ago that I actually opened the book - "The psychopathology of everyday life." What I learned from that book was how to locate the house keys should I lose track of them somehow. Before reading that tome, I simply thought it best to just not lock the door such that I never needed to find lost keys. -Gus-


• Goodfellow, Texas
28 Feb 17
@shaggin
- You are correct on both counts. For some reason the 197KB size image did not upload this time. I will shrink it even more an try again in a minue or so. -Gus-