"I am not your mother"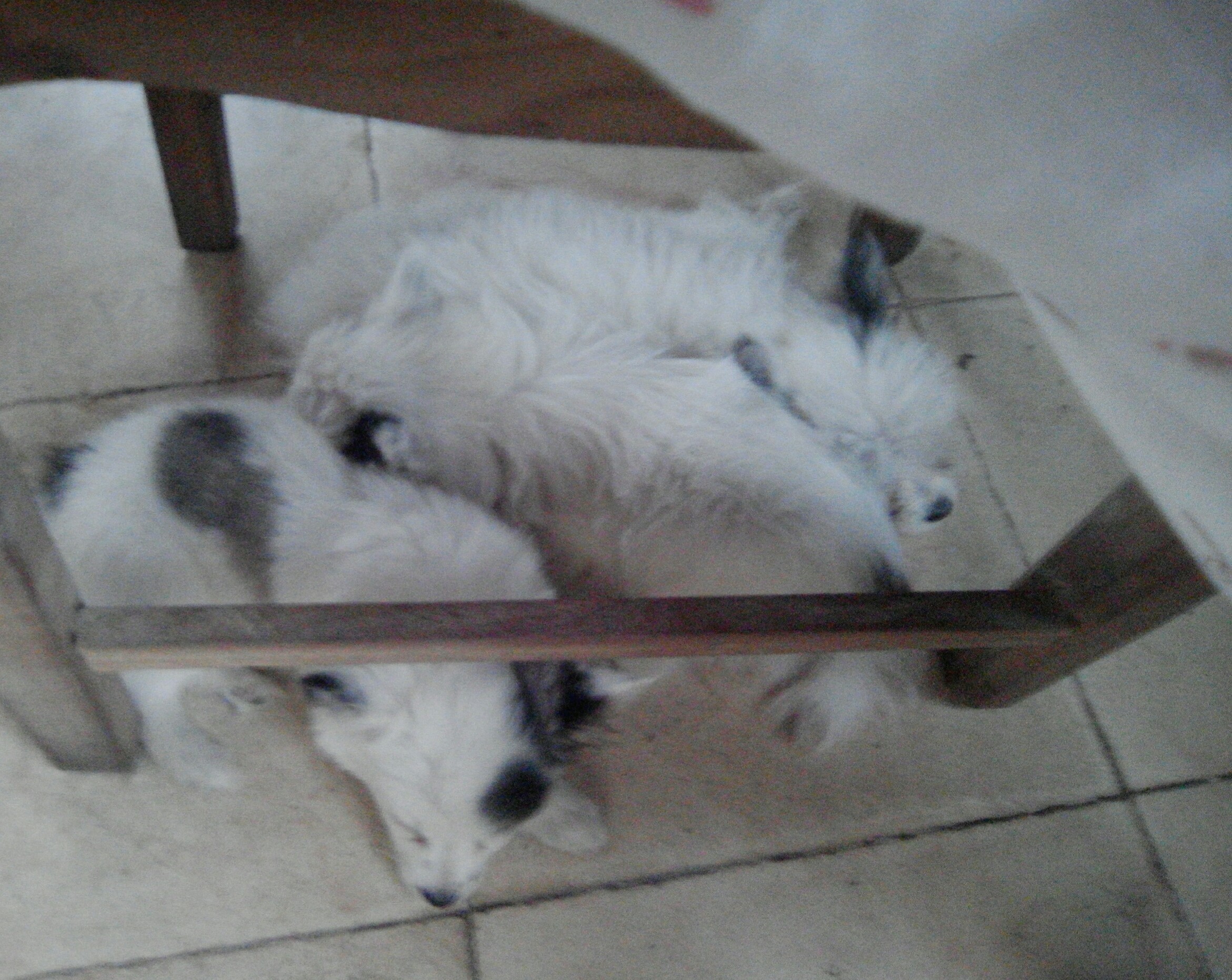 Philippines
March 1, 2017 10:22pm CST
Well, I think I have another title now- a fur mother. I read this term in a face book site for pet dogs and cats, and these canines and felines are usually called fur babies. Ever since I prepare the milk and pellets for the puppies, they continuously follow me wherever I go. Last night, I slept late because I watched a TV series, and they slept under my chair. When I stood up and went up, the 4 puppies all woke up and followed me but since we placed a piece of plywood in the stairs, they were not able to go up so they cried, and whined, and barked. So what I did was, I went back down, sat on my chair, and slowly went up when they were already asleep. Check on my picture now. My duster is showing, and I am seated in front of the desktop, and the 4 puppies are sleeping under my chair. Macy, their mother, is sleeping in the stairs. No, I am not your mother, I would tell them. They follow me as if they are my shadow. Do you get followed by your pet dogs in your house?
10 responses


• Philippines
3 Mar 17
that is true. with their little barks, they seem to show me 'that they miss me during the night'. hahaha!


• Indonesia
3 Mar 17
The tittle remind me with Star Wars

"I am your father" lol



• Hartford, Connecticut
6 Mar 17
@ridingbet
That would be Darth Vader.. as he turned out to be Luke Skywalker's father. :) I just recently rewatched the series!


• Philippines
6 Mar 17
@minx267
hmmm, what episode was that? the return of the jedi?



• Philippines
3 Mar 17
they are so cute, but sometimes when they are so 'happy' and they stand with 2 legs up, their paws hurt me that i get scratches in my legs

• Hartford, Connecticut
3 Mar 17
@ridingbet
oh yes, Mine too. Only my dogs are big. so I get punched in the mouth or the chin gets scratched with their nails.. It can be painful!

• Philippines
4 Mar 17
@minx267
when i see a big dog that can swipe a little boy, that is a big dog alright, but i also love watching a dog sweetly caressing his owner's legs by moving its fur body around and circling it.


•
8 Nov 17
My Sophie is a cat, but, she likes to follow me around that I should get a bell for her because I do not know she is there and do not want to step on her.

• Philippines
11 Nov 17
these 4 puppies are all growing up fast, and every time i come home from my hospital duty, they would run fast, stand and mess with my white uniform. they enjoy meeting me at the gate. good thing i am home so when mud from their paws gets in contact with my uniform, i don't get angry at them.

•
12 Nov 17
@ridingbet
ingrid, they love you and want to greet you and good thing you are not going out and coming home when they get you all muddy. Yes, they do grow up fast.


• Philippines
7 Mar 17
thanks, my friend. and right now, the puppies are following my son, tails wiggling, and barking loud. hahaha!


• Philippines
7 Mar 17
well, we do not consider ourselves as their masters, but just owners. hahaha!


• Kakamega, Kenya
4 Mar 17
Pets recognize the one who cares for them. They would always like to identify with them

• Philippines
5 Mar 17
i agree. right now, they are here again under my chair, asleep, while i am commenting in your response


• Philippines
3 Mar 17
i know that there are some flats or apartments prohibiting pet dogs or cats within the vicinity of the house, sad you don't have pets

• Philippines
2 Mar 17
Well, they love you that's for sure. I didn't allow the dogs to go inside the house. But one time I was at the back garden, the dog sit under me as I played and cuddled him.

• Philippines
3 Mar 17
dogs have the unique way to show their affection to their fur parents. so you leash your dog outside your house?

• Roseburg, Oregon
2 Mar 17
What cute little puppies. They think you are your mother.

• Philippines
3 Mar 17
yes, and everywhere i go inside the house except upstairs, they are like the ducklings following the mother duck- they sometimes line up walking behind me.