Why do people hate President Trump? He is the only real President in decades!

United States
March 2, 2017 7:04pm CST
When you think of it our Preisdent's have all been run by the Bush and Clinton Crime families. Obama is somehow releated to them so he doesn't even count. We get on President who is not part of the Illuminati new world order Criminals. And people protest? I guess people love being slaves.. .and would welcome chips in their brains.. and having every thought ordeded but Google AI.. or facebook or whoever is trying to take over the world! Think people! we have a chance of Freedom now. Let's drink! whooooooooooooooooooo

11 responses

• United States
3 Mar 17
I agree the insurance companies have the politicians paid off.

• United States
3 Mar 17
@andriaperry
~President Trump is bought and paid for by big business! Everything that he has done benefits big businesses and the 1%!

• United States
3 Mar 17
@flpoolbum
He has not been in office long enough yet for me to judge his work, but if he gives big business a tax break to stay in the USA , that also means jobs stay in the USA. Over the past 20 years the insurance companies have bought the election, I was forced to buy auto insurance, not a bad thing but when its forced for the people to do the companies jack the prices, the people suffer. Most people on S.S. cant afford to drive anymore. Then came the Affordable Insurance that I never could afford. I was not poor enough to get free and I did not make enough to pay for it and live month to month, so I had to get an exemption number every year so I would not have to PAY when I filed my taxes. That is messed up! I never benefited from that insurance scam. When Trump cancelled the " buy it or pay anyways law" I was relived.


• United Kingdom
3 Mar 17
Mate...he's a f*cking idiot

I didn't like obama much either but trump takes the cake for idiocy. In my opinion the only plus point is he supports brexit...but what that'll actually deliver is still to be seen. The US got what they voted for, or didn't however you see it

, I suppose you'll have to deal with him and the consequences for at least 4 years.


• United Kingdom
3 Mar 17
@EddieHands
don't drink too much...you may regret it later

Britain is wise to leave the EU as it is a bloated and corrupt organisation...was the US wise in voting in Trump...time will tell but I'm not as hopeful as I was.

• United States
3 Mar 17


• United States
3 Mar 17
He's criminal in his own right, that's for sure...

• United States
3 Mar 17
Really what has he done that is more Criminal than the Bush and Clinton's ?

• United States
3 Mar 17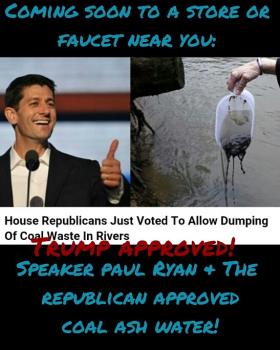 @EddieHands
~Last month, he reversed the "Stream Protection Rule". Congressional Republicans passed the bill he signed it into law so that coal companies can LEGALLY dump coal ash into our rivers. He signed another executive deregulating pollution controls and his budget has big cuts for the EPA. The EPA was formed by a Republican, President Nixon. We can't make more clean water or air. This President is allowing an increasing the amount of pollution, soley to benefit big business. Now he is removing regulations to benefit Wall Street, which could cause another economic meltdown like 10 years ago. It's all for big business. He also wants to pass a national "Right to Work" law, which only benefits big business. Check out the "Regulatory Accountability Act", the "REINS ACT", and the "Midnight Rules Relief Act". All of these only benefit big business.

• United States
3 Mar 17
@EddieHands
If the Bushes and the Clintons were Mafioso, how would that impact Trump's criminality? Certainly the two quantities are independent of one another.

• United States
3 Mar 17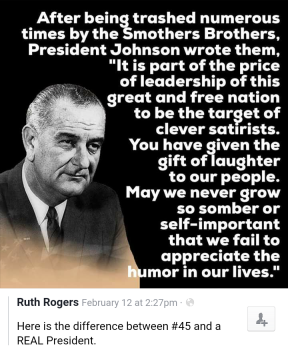 @EddieHands
~Most of the time, I try to respect the offices of our elected officials, even if I don't agree with them. I think that one of the main reasons that people hate President Trump is that he himself is hateful and disrespectful to just about everyone. Contrary to what you've said, I think that President Trump is the only President to date who isn't acting Presidential. Politicians, athletes, film and tv stars know that they are subject to ridicule and are sometimes the butt of jokes being in the public eye. Most Presidents do not respond negatively and definately do not retaliate to the jokes and riducle that they are subjected to.

• United States
3 Mar 17
Yes he is not good at lying, or acting. The rest acted nice but did great evil and were evil. He at least is honest about everything he says and does. Hillary is a great liar and actress. But she is 1000 times more evil than Trump ever could be.

• United States
3 Mar 17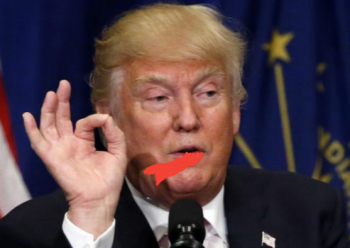 @EddieHands
~President Trump LIES EACH AND EVERYDAY! He is among the least honest people that I've ever heard speak!

• United States
3 Mar 17
@flpoolbum
Did you know he stopped the TPP a horrible deal that would have put the US and much of the world under global tyrannical goverment... until someone talks about this. I refuse to address anything. he is breaking the chains of slavery but no one can see it.


• Kakamega, Kenya
3 Mar 17
Somebody said, "Hate me, that I may live long". That is what I can say of the US president Trump

• United States
3 Mar 17

• Kakamega, Kenya
3 Mar 17


• United States
3 Mar 17
I agree with you, He's definitely better than most of the Presidents in that last several decades. But people shape their opinions by what they see and hear on the news media, which of course is very anti-Trump, because he's bucking the New World Order.

• United States
3 Mar 17
Yes he will be against the new world order. And bring back freedom and prosperity.

• United States
3 Mar 17
@EddieHands
wrong. I don't have to provide evidence. I heard it from some guy on an alt-right radio. And it agrees with my world view. It's politically advantageous to me. If you contradict me, well, you're wrong. The law is 100% on my side. You're wrong. And Hilary would be worse. It's all Hilary's fault. I don't have to provide my taxes because the people voted me in. I would have won the popular vote if it weren't for the 3-5 million illegal vote who all voted for Hilary. How do I know this? I heard it on the radio.

• Los Angeles, California
3 Mar 17
That's a debate that will rage for years.

• United States
3 Mar 17
Oh Yes I love the debate! But if Trump brings lasting freedom to the world, they will remember him as the greatest President of all time.

• Austin, Texas
3 Mar 17
Hate is a very strong word. Who said they hate Trump? Why is it if you strongly disagree with a political leader it is construed as hate? May I also add that there were certain things Trump said that could certainly provoke hatred. But there's no justification for hate. And I haven't really heard people say they HATE the President. Real President? All of our presidents have been real. From George Washington to Donald Trump. That's what makes America great. We have real presidents. Not monarchs. Not emperors. Not dictators. Not tyrants. Real elected leaders who can serve up to two terms and then go home! Meanwhile, We the People continue to be real leaders of ourselves. We are free!

• United States
3 Mar 17
I think Bush and Clintons trying to run things for a long time, makes them Monarchs.. either that or people are dumb enought to vote the same family in. Glad the people voted against Clinton!

• United States
3 Mar 17
While politics is not a big topic for me I must say - I don't believe that he would have made it as president if he weren't connected somehow. That said I know people on both side of the fence, those who love Trump and those who hate him. I hope he does well for this country.

• United States
3 Mar 17
I think people were just tired of the same two family names running things for 20 years.. it was time for a change... but real change! not the fake Obama change lol