JJ's Vinyl Madness Countdown #983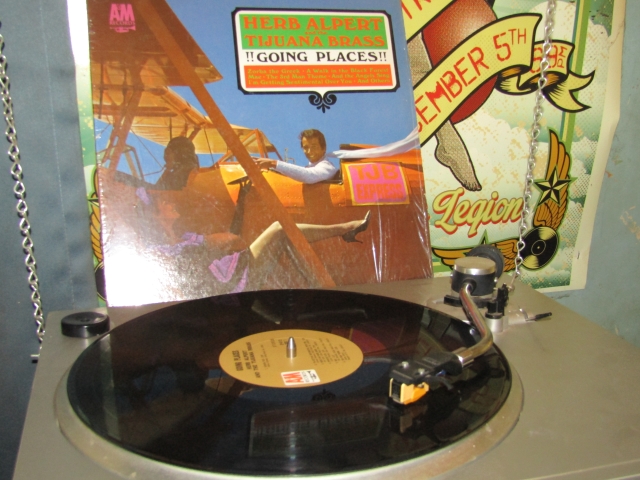 United States
March 7, 2017 5:16am CST
...and we're off to a rainy start on this Tuesday morning here in Illinois. Scar, of course, ran to the front door as he realized I was getting up...but when I opened it and he saw the rain, he asked what kind of MONSTER I was to try to force him out into that crap and walked away...

This morning we're spinning Herb Alpert and the Tijuana Brass - !!Going Places!! (the exclamation marks are part of the title for some reason). Scar did finally decide he wanted to go out...at which point he went directly under the overhang beneath the front picture window and watched the rain fall.

*sips coughee* And this is how it is on this Tuesday morning...stay tuned for more excitement and adventure coming soon!


I was surprised to learn this was actually the b-side of the single "Zorba The Greek" . The single version is a dedicated mono mix with some extra honk sound...
7 responses

• Bunbury, Australia
7 Mar 17
You realise you've changed his name but who cares. You're amongst friends here.

• Italy
7 Mar 17
Scat must be Scar's alter ego.


• United States
7 Mar 17
That's because he is full of (expletive deleted)

• Bunbury, Australia
7 Mar 17
@JolietJake
Your one true friend and you talk about him like that.


• Los Angeles, California
7 Mar 17
My parents had that album and other Herb Alpert's. I grew up listening to them and the Baja Marimba Band if you remember them.

• United States
7 Mar 17
Yep, I remember them as well

• United States
7 Mar 17
My parents had this. Ahem...the album, not the cat that owned them.

I'm still convinced Dad bought
Whipped Cream and Other Delights
for the cover, not the music.

• United States
7 Mar 17
I love how on Whipped Cream the song 'Love Potion #9' sounds like a stripper theme


• Colorado Springs, Colorado
8 Mar 17
Love it. Those Herb Alpert albums were awesome.

• Italy
7 Mar 17
That would be music for rainy days? I hadn't heard in YEARS! Once again the link you posted didn't work but I found it just the same.

• Boise, Idaho
7 Mar 17
Haven't heard Herby in years.

• Philippines
9 Mar 17
A cat and rain - not a very likely combination!