Get home to hear this

United States
March 7, 2017 8:48pm CST
Yesterday my doctor told me that I need to walk to help my feet from hurting.

Therefore I went out today and walked doing some errands. And my feet, knees and hips began to hurt worse.

She also told me, you need to get them to give you Medicade back so you can go back to the foot doctor, get the MRI done and go to a rhematologist. Well I cannot get medicade back until I get approved for disability.

Hopefully in May that will happen.

Besides hurting and not being able to find a present for my granddaughter I went and got free pancakes at IHOP and making a donation for childrens cancer with my daughter and a friend.

Then I got home tired, hurting, but full from pancakes

and I was told that on the news it was stated that Trump blocked any new approved applications for Medicade. And no insurance can cover medical bills for any condition that will have anything to do with pre existing conditions.


9 responses

• Paso Robles, California
8 Mar 17
That isn't what I heard. I heard. I don't think anything has been passed yet. Congress can't even agree on what will be in the bill yet.

• United States
8 Mar 17
I don't know, I was told this by my family when I got home yesterday. What did you here.

• Paso Robles, California
8 Mar 17
@dfollin
I listened to the White House press briefing and several members of Congress representing the different factions. One group want a full repeal first with a well-thought-through plan to follow instead of trying to rush something through now. I think the current plan has transition time built in so that no one who currently has a plan will lose it immediately. I haven't had time to read it yet, but the text of the proposed bill is found at

Text for H.R.277 - 115th Congress (2017-2018): American Health Care Reform Act of 2017

• United States
8 Mar 17


• Bunbury, Australia
8 Mar 17
Goodness me! This is terrible. What will you do now? He really is the pits.

• United States
8 Mar 17
I am not sure what I am going to do. Yes I agree he is the pits!


• Laguna Woods, California
9 Mar 17
@JudyEv
- Thanks for pointing me to this article. It is so horrible. I think a lot of people are going to regret voting for Trump, because our insurance system is going to get worse, not better.

• Bunbury, Australia
9 Mar 17
@DeborahDiane
I have never really appreciated just how good our health care system is. I have much more respect for it now.


• Roseburg, Oregon
8 Mar 17
That is just wrong what about children that need medical help.

• United States
8 Mar 17
@jstory07
~Not to mention those who aren't offered healthcare by their employers or even if they do offer healthcare to full time employees, some employers intentially prevent their workers from achieving full time status to keep them them from being eligible for the Healthcare plans. The Republican healthplan will HURT most Americans. Members of Congress have exceptional healthcare coverage at the expensive of taxpayers. It's INTERESTING that they don't "believe" in citizens having any kind of healthcare, yet not one of them refuse their own healthcare coverage.

• United States
8 Mar 17
Exactly, any of them that already have Medicade can get help. But no more


• United States
8 Mar 17
@flpoolbum
even if they do have health care from their employers it will not cover pre existing medical conditions if is a new policy.



• Momence, Illinois
8 Mar 17
I have heard that the medical that Trump wants will be even worse than Obamacare. Hard to imagine, but it's easy to take away things from people when you are a millionaire which we are not.

• United States
8 Mar 17
I am very far from being a millionaire and have no medical at this time and now probably never will.


• Momence, Illinois
15 Mar 17
@dfollin
I hope he fixes things and people can get what they need at an affordable price, we shall see, I think at this point folks don't really know yet. Could just be rumor.

• United States
16 Mar 17
@fishtiger58
Nope it is not a rumor, he is trying to only make sure only the rich can get health care.



• United States
8 Mar 17
I have been trying this walking stuff for two days and it has not made my feet better at all.

• United States
8 Mar 17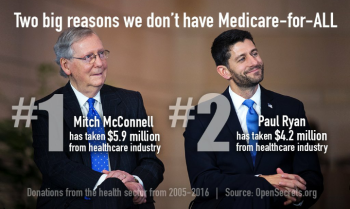 @dfollin
~It's unfortunate that the Republican plan will most likely be written to benefit the Healthcare Industry, which spends billions on "contributions" to many politicians. We NEED to get big money out of politics by putting a limit on contributions AND spending. Candidates for public office can get their faces, positions and comments publizied for free on the Internet. We don't need these obscene amounts of money, corruption and those who are suppose to represent us favoring special interests and giant corporations INSTEAD of their constituents!

• Worcester, England
8 Mar 17
Feet hurt for a load of reasons. I was unemployed (voluntarily) for nearly a decade. Got a job and my feet blew up like balloons. It was the shoes...new job and on the feet more but now have $100 boots (UK way less than a oner) and no issues...I'm working 15 hour shifts!!!

• United States
8 Mar 17
I do know that I have Plantaar Faciiatis and bone spurrs in my heals. I possibly have the Arthritis in my feet (they are already in my arms, shoulders, elbows,knees and back). I also have Fibromyalgia which is a nerve condition in my whole body. I have changed shoes and used orthopedic shoes and nothing helped. I was on medicade at the time and the Podiatrist said that I needed an MRI to see what else was wrong with my feet. Medicade refused to let me have it.

• Guam
8 Mar 17
Oh No, its Trump again this time on Medicade.


• United States
8 Mar 17
Yep, as expected from him ....... only for the rich!





• Laguna Woods, California
9 Mar 17
I am so sorry to hear you are going through this. Do not give up. Some Medicaide is still being approved, depending on the state you are in and your income. Keep trying, even if they do not approve you the first time. I hear that, in some places, they routinely deny initial applications, but some people get approved if they keep trying. In addition, see if there are any free clinics in your area. I am horrified this is happening.

• United States
9 Mar 17
See I was approved and had Medicaid after I applied for Disability. The Disability had still not been approved after I had Medicaid for 12 months. My daughter went to the pharmacy to pick up my meds and she could not get them because I was denied. I called social services and was told that if the disability had not been approved in 12 months them my Medicaid is cut off until I get approved. Since then I have applied 2 times and got denied. This May I hopefully will be approved, but now I am not going to get my Medicad back.