Take a Little Ride with Me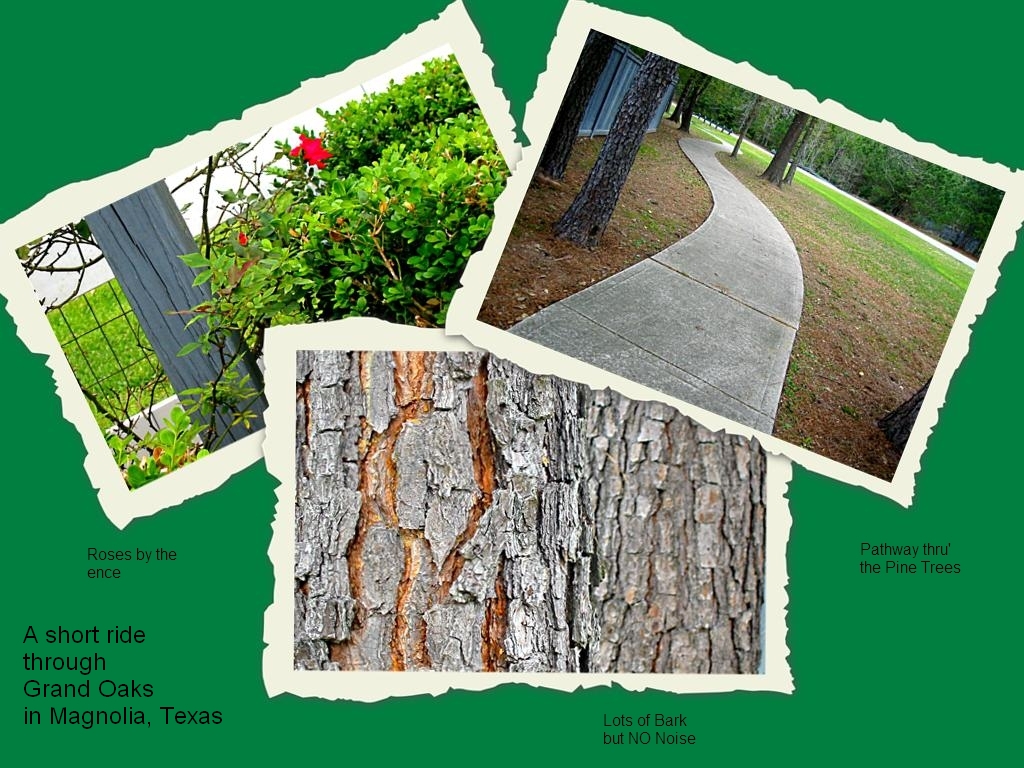 Goodfellow, Texas
March 8, 2017 5:04pm CST
Take a Little Ride with Me - Today, for a change, it was not pouring down rain, so out came the little electric scooter and off I went on a short trip around the area. Today there was not a whole lot to see around here, but there were some bright red roses blooming in front of the fence around the doggie exercise yard. I gave the old Canon camera a taste of those roses before moving on to other things. One of the old pine trees along the pathway was showing off some crusty, crackly gray bark. With a camera in hand and not a lot of artistic sense upstairs in what passes for my brain, I shot a picture of the bark. Then I listened for the tree to say something to me. Nothing. Plenty of bark but no bite. Well. after all it is a tree of the evergreen flavor - not some kind of flowering (or barking) dogwood tree. I was becoming a wee bit bored. So I decided to commemorate this excursion by making a photograph of the pathway itself. I will now pretend that I made that curvy slab of concrete happy such that it smiled at me. I did make it back to the farmhouse before the next (inevitable) rainstorm. Image - Wednesday scooter ride - Gus Kilthau
7 responses


• Goodfellow, Texas
9 Mar 17
@inertia4
- It was short. It was nice enough. It was boring. Nothing wrong with any of that. The photos turned out to be captive at that toward which the camera pointed. All's well that turns out well. (Next trip - possibly on to Alaska. Might require one extra day or so from here in Texas.) -Gus-



• Goodfellow, Texas
9 Mar 17
@LadyDuck
- Ms Anna - You know that old expression, :"Rain, rain, go away, little Ceerios wants to play. Come again another day..." And this area is good to look at, too - quiet other than for the many pet dogs and kids. Big change from life in the huge city. -Gus-

• Charlotte, North Carolina
9 Mar 17
Your photos help us realize you live in a very nice area. Hope you are enjoying your scooter adventures.

• Goodfellow, Texas
9 Mar 17
@PatZAnthony
- Ms Pat - Right you are about the nice area here, And the scootering around really is good fun - but some of the neighbors have taken notice of my riding habit and are beginning to make a bit of fun of me on my iron horse. -Gus-

• Bunbury, Australia
9 Mar 17
Glad you got home before you got wet.

• Goodfellow, Texas
9 Mar 17
@JudyEv
- Ms Judy - I would hesitate to call those few drops and driblets "rain," but I got back home before the wet got here. -Gus-


• Goodfellow, Texas
8 Mar 17
@jaboUK
- Ms Janet - AND I surely did like the way you commented here. It had real effect on me.

-Gus-

• Magnolia, Texas
10 Mar 17
Go deeper in the woods. You may find some critters in there.

• Garden Grove, California
28 Mar 17
wqw smiling concrete guessyou were a l ittle bored lol lol butwho know glad y ou did not get rained on