I had to click this

India
March 9, 2017 8:22pm CST
Preiti sleeps late unlike me. But today she decides to get up early - for her 7.30 am is too early. She still looks sleepy but is seen here at the gate awaiting the arrival of the maid - her best friend. As some of you know Preiti will be there where activity is and so she will now follow the maid the moment she arrives and spend time with her. What about your pets. Do they sleep late too?
4 responses

•
30 Mar
@allknowing
Always smiling. She is very cool. My Sophie gets up with me or she was already up. When she wants to eat she lets me know and when I want to eat she is in my face wanting my food too and I tell her no.

• India
30 Mar
Cats can be very charming too. Do you have a photo of her?

•
30 Mar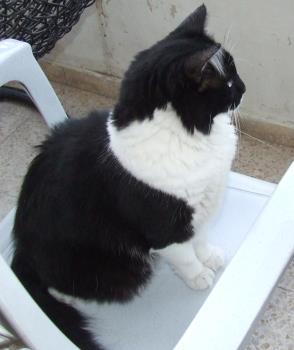 @allknowing
Always smiling. Yes I will post one here now.

• India
30 Mar
@Hannihar
Sophie looks beautiful and also a bit spoilt I ithink




• United States
10 Mar 17
So nice to see your pet, Preiti. Princess sleeps both early and late. She likes to insist we get up early, but before we leave the house she will be sleeping on the foot of our bed, or in a sunny window.

• India
10 Mar 17
I can visualise that scene when she would come up and literally paw you (lol)

• Roseburg, Oregon
10 Mar 17
Patches wakes up when we get up and follows me where ever I go in the morning.

• India
10 Mar 17
Cats normally are early risers. But Preiti the lady of the house prefers longer sleeping hours (lol)