One thing we missed this winter

Canada
March 9, 2017 9:09pm CST
In my area, we hardly had a winter. It was quite short on snow. It fell here and there, with barely a dusting that melted shortly thereafter. I did miss big snowfalls. The ones that the snow falls so quickly, with big fluffy flakes that muffle all sounds. It's the quiet I missed. Not the shoveling. While it is not spring yet, and the possibility of a big snowfall is not entirely out of the question, the forecast is highly against it. I am ready for spring nonetheless.
4 responses

• Canada
10 Mar 17
We've had a foot of snow on the 21st of March.....we've also had a major dumping of snow on April 1st. That was after having a March break that was balmy and warm.

• United States
10 Mar 17
We're getting snow tonight and the possibility of a nor'easter on Tuesday. Mother Nature is certainty not giving into spring without a fight

• United States
10 Mar 17
We had the same type of winter here in New York the sad thing is we getting snow tomorrow. And I hear it's going to be a lot as well.

• United States
10 Mar 17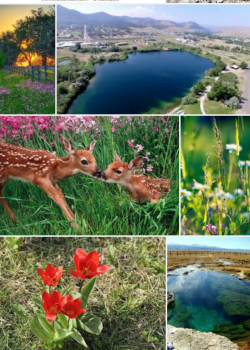 Spring is my favorite time of the year. Trees getting their leaves, flowers blooming and of course adorable baby animals.