Setting up for one of my many Pearl Street Busking Adventures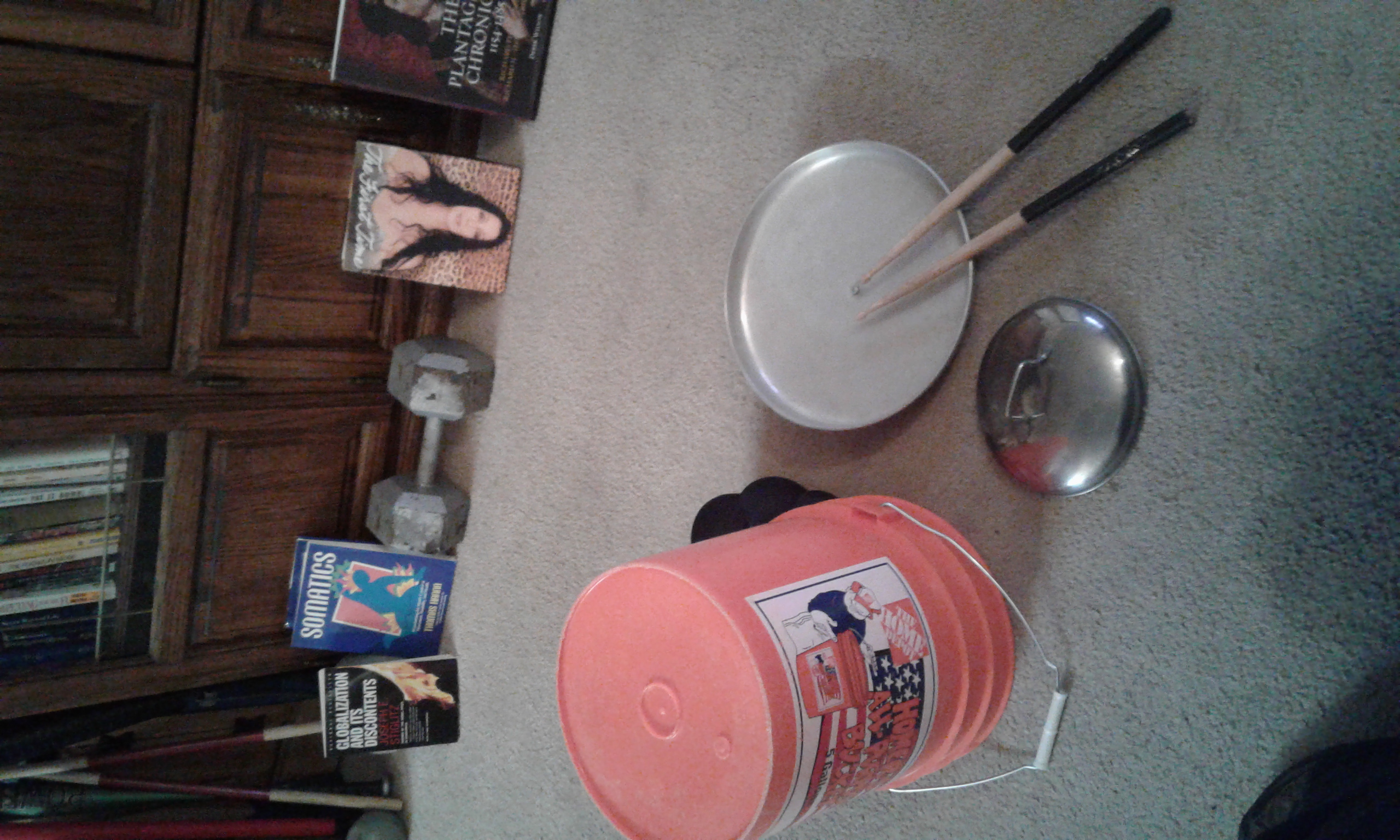 United States
March 10, 2017 9:21am CST
Fri Mar 10, 2017 08:14 Boulder, CO #21 Yesterday, I took out my orange home depot bucket, the small metal pot lid, and the larger pot lid, along with the drumsticks a friend had given me a long time ago. I propped the bucket so that it slanted down toward me slightly, and started playing around a bit, experimenting with various rhythms. I was delighted to find that the small lid, can be struck in several ways and rings out for a period of time with certain strikes. I've been teaching myself how to hold the drumsticks so that I can alternate between a solid hit and one that vibrates as it strikes. When you vary between the two, those vibrations can come quicker or be drawn out more. Then, I noticed that hitting the small lid, but holding the drumstick down for a beat, caused the ringing sound to become muffled. I try to practice every day; because I eventually want to go down to Pearl Street, where all the street performers hang out, and make money doing this. That's it for this article. Hope you enjoyed it. Will be many more to come, as I get more settled in my life. Be well, and let the force be with you ~ The Guardian ~

or

... I can't make up my mind
2 responses

• Denver, Colorado
10 Mar 17
Lot's of busking here in Manitou. The mayor keeps trying to run them off, but the tourists like them, and we are a tourist town. We'll see what happens this year. Good luck.

• United States
13 Mar 17
Thanks Scott - appreciate the encouragement. Where is Manitou located? What kind of a tourist place is it? Here it is very mountainous... so you tend to get people who like the outdoors and all that beauty that the mountain ranges provide. Boulder also tends to circulate all kinds of spiritual and psychological masters. Busking can be hard, but rewarding. The trick is to stick with it enough that people begin to notice you. You want to build a relationship with them over time. Hard to do with tourists who come and go within a few weeks; but even those people will see that you are down there nearly every day and will come up to you to find out what you're doing. That's your time to really shine... when they come up to you - especially if they have kids. Impress their kids and you tend to impress them. We have the same thing here, about people running off those who busk; but probably not near to the extent that you guys do. There are certain things you can do to avoid that. I put out a hat; but ask for donations. I don't charge a set price. The police walk by and don't bother me; so either, they don't want to bother with something so small; or I'm completely within my rights to be doing what I'm doing. Either way, I'm grateful that I can return to the same spot, just outside of Illegal Pete's. Once, this serving girl came out and asked me if I wanted anything. Said that her customers had remarked how much they liked my little performance. She brought out a coke for me. That was cool. What's really cool, though, is when kids run up to you smiling and thanking you and sometimes toting with them a dollar or two that they got from their parents. That's probably the best.

• Denver, Colorado
14 Mar 17
@anewoldsoul
- Manitou sits at the very foot of Pikes Peak. We border the west side of Colorado Springs.

• United States
14 Mar 17


• United States
13 Mar 17
That's too bad, Trensue... the drum sticks were given to me by a long-time friend. Gotta get you a pair. They really make the difference. Or borrow some; or make some... but if you want to drum, just keep looking for a way. :)