They are Looking like a Group of Ghosts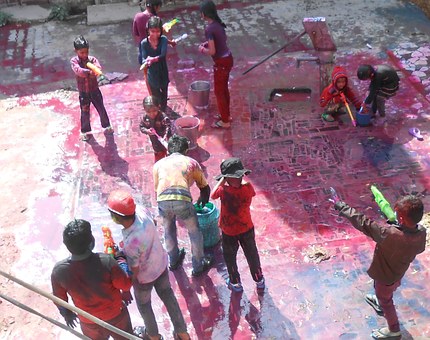 March 12, 2017 3:39am CST
As soon as I returned from the church my foster son Ankit ran to me to rub color powder on me. I told him not to do so, and he returned to continue his holi fun. The children of our foster home have been playing holi for four hours. They are looking like a group of ghosts. Well, now they must go for a good rubbing wash with bath soap. Even then, some color marks will remain on their bodies for a day or two. They wait for this day and they certainly are having a good time of their life. Sometimes, we have visitors from abroad.They too join in this festival.
8 responses

• Houston, Texas
12 Mar 17
Children like play.When they play they can get imagination and creat many things.

•
13 Mar 17
Truly so. Colors are good medium of imagination.

• Houston, Texas
13 Mar 17
@franxav
you are right . I agree with you .

• Prairieville, Louisiana
12 Mar 17
Thanks for sharing with the mylot community.

•
13 Mar 17
You're welcome. Hope, you are all keeping well.


•
13 Mar 17
Yes, the celebration was fine. However, I avoided colors.


•
13 Mar 17
In Bengal, holi comes a day early because of the Bengali calendar followed here.

• Bunbury, Australia
12 Mar 17
The children will have had a marvellous time. They will be making great memories.


•
13 Mar 17
Yes, they will talk about it for days or perhaps years because they will their happiest memories.

• Hyderabad, India
12 Mar 17
Yes. The color will remain for a week sometimes. But, one should be quite careful in playing with colors. Some people get reaction very easily even without their notice.

•
13 Mar 17
My daughter tells she has swellings on her face after a child rubbed 'marker' color on her face.

• Roseburg, Oregon
13 Mar 17
Your festival of color spunds like a lot of fun. I hope the children all enjoy themselves.