Dressmaking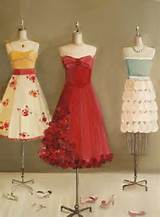 United Kingdom
March 12, 2017 3:58am CST
I enjoy doing a bit of dressmaking now and again , but I do not do as much of it as I used to . There are several reasons why I do not do a lot of dressmaking these days . The main reason is that it is now less expensive to go out and buy a garment ready made than it is to go to the trouble of making something for yourself. This is because with cheap imports, clothes are being brought into the country after being mass produced in countries like China and India. Dressmaking is an expensive hobby these days because the fabric, patterns, thread, haberdashery etc are all expensive to buy and by the time you have brought what you need to make a garment , you have already spent more than you would if you had brought it ready made. However, I am missing a valuable point about dressmaking while I am ranting on about money, and that is the enjoyment and satisfaction you get out of making something for yourself. I really did used to enjoy the whole process of making something from scratch. From the first trip into town to find a pattern and some fabric , I used to love browsing round fabric shops and looking at all the lovely materials. Then once the fabric and pattern has been chosen, I would by the zips, thread and other haberdashery bits and pieces. When I got home I would start making my garment and I would really enjoy this part of the process too. Making clothes is not a five minute job but I would do as much as I could in one session and I would not spend too long sitting at the sewing machine because I knew that if I spent too much time on it I would get fed up. So I would get to a certain point and then leave it for a day. Then I would go back to my dressmaking the following day and hopefully it would not be long until the garment was complete. I would love showing off my needlework to friends and family and sometimes they would ask me to make something for them.
5 responses


• Beaconsfield, Quebec
12 Mar 17
@millie02
She did make a dress for me once. She did also do a dress for my eldest when she was a baby. Both my girls have worn it. Granted, it was only once each, but they outgrew it quickly. So, we have that. She does also have a bit of a business going as well. She has been able to make a few sales.


• Houston, Texas
12 Mar 17
These dress look so nice and beautiful.My friend can sew dresses for herself.The dresses fit her very good.

• United States
31 Mar 17
My mother used to make a lot of my clothes when I was growing up. I remember some of them fondly, and sometimes wish people sewed now like they used too, but it is not cheap anymore to make things by hand. Many times the materials, etc can be more than to just go buy something from a store.

• Canada
12 Mar 17
The materials are a huge expense...but sometimes I can sniff out the bargains. Patterns are outrageous in price. I did a lot of alterations for a great many years...now I sew for my grandchildren....I make quilts, placemats, table toppers and bags.

• Prairieville, Louisiana
12 Mar 17
I only wear dresses on special occassions and I have a prom dress in my closet.