..... They are moving so Fast!!

March 12, 2017 11:32pm CST
Mylot chat sometimes moves so fast that I can't keep the track. You see mylot has a feature of hiding old comments with 'Show More Comments' confuse me. Next day when I click on show more comments gives me many comments which I missed to read. Well I am thinking how to track all the comments - 1 Never tag more then 5 people who are like you ... if you do ... Damn in few seconds you will see thousands of Notification.

2 Updating Mylot Feature Similar to Facebook comment sections. Facebook separates responses (main comment ) and comment on that responses. And both will be bundled up separately. 3 Get a good Internet Connection - I click on show more comment by then I see 5 more comments added by my friends.

Have you ever being in situation where you missed 2nd or 3rd comment on response... and that comment was something on which you could respond. And now topic is so different in that comment section

How you track all the comments

Yeah I mean when you have hot discussion

What you think

9 responses



•
15 Mar 17
@ramapo17
Positive response, well you are DE's friend and now you are mine too so you will see responses for sure


• Aurora, Missouri
16 Mar 17
@ramapo17
But you are having lots of fun too, right, Nancy? You know it takes me time to get around to all my notifications, right? And when it does, it seems some of my friends,
@Beatburn
,
@Gillygirl
, as well as you, MIGHT think I have abandoned a thread so I can find one that is "juicier" and "more fun" than the one they (you) are on!!! How any of you can believe that I would abandon a thread with my friends talking on it is beyond me, but maybe you don't realize just how many notifications I receive in one 24 hour period? Let me explain.... I had an allergic reaction this morning, so couldn't be here to start working on the 150 DIRECT TAGS I received after I left myLot last night. Since I haven't responded to any except the ONE Raja sent me, that means I only started out my day NOW with 201 notifications. (Just so you are aware, it will take me a couple of minutes to respond to 200 more notifications.... I am not as fast as all of you are... You may never see me on a thread you all are on ever again, at this rate!) But, you know what? I will respond to all those notifications!!! I will respond because someone took time out of their own very busy schedule to talk to me on a thread I was interested enough in to go there and talk, so they deserve some of my attention, too, even if I don't know the person who tagged me. Yes, my comment in reply to what they said may be well down a list of other people responding and playing but at least I will respond! I will get back to every single one of my tags because someone had something to say to me. I won't let them down any more than I would let any friend down!


















• Sutton, England
16 Mar 17
@DaddyEvil
Mine dealing with notifications is higgledy piggledy at present. Won't get back to normal until my return home tomorrow afternoon.


• United States
13 Mar 17
Yes the chats here do move fast.. meow!

•
13 Mar 17

I got fish can, so seems like something will slow down



•
16 Mar 17
@DaddyEvil
I never touched a live fish


• Melbourne, Florida
20 Mar 17
@DaddyEvil
Is there anything in your life that you have not done?


•
15 Mar 17
You are there to boost them up, what you usually have before coming here


•
20 Mar 17
@vandana7

I don't mind unless you tell the truth




• United States
13 Mar 17
This happens to me all the time and, since I post 50% from my phone/Android, it is worse. It is difficult to track them or figure out what the responders all mean. I feel your pain.

•
13 Mar 17
Using Phone with Mylot is not that easily then it seems, Even facebook finding it hard time for mobile application to be real time.

•
14 Mar 17
@CoralLevang
You will find it hard when you see even 3 of my friends online on same disccussion.



•
15 Mar 17
@CoralLevang

You like hard time hitting you


Join our Group

@daddyevil
Admissions are open right



• United States
13 Mar 17
I have never seen anywhere on here it say show more anything. so your confusing me. Good luck with it all.

•
13 Mar 17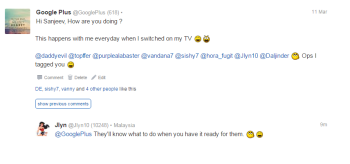 You never "SHOW MORE COMMENTS" in mylot ? Okay let me give you a screenshot for same -

• United States
16 Mar 17
@DaddyEvil
I have no idea what a fold is. I could learn for sure if you tell me. Thanks

• Alanya, Turkey
16 Mar 17





•
20 Mar 17

You need to listen to her, go up and see it

@sishy7
Am I right


•
20 Mar 17

Official video for the original single "Kuthu Fire" by Vidya Vox, from the upcoming Kuthu Fire - EP. Get it on iTunes: http://bit.ly/iTunesKuthuFire | Listen...

•
21 Mar 17
@sishy7
You accepted that without anyone's intervention ..... Hmmm whom am I talking with



• Aurora, Missouri
16 Mar 17
Hey,
@pgntwo
, you are the only other person I know who uses your phone mostly for myLotting... Do you have any tips to help Raja with keeping up on some of our discussions? If you do, thank you for sharing them with him

.... if you don't, that is okay, too

. After all, he will adapt

... or we will wear his long fingers down to nubs trying to keep up with the conversations!

LMFAO!












Either way, thank you for coming to see what I wanted/needed you for, pgn! I do appreciate that!


• Alanya, Turkey
16 Mar 17
Go up or down the thread and hit every "Show more comments" prompt you see. Then go up to the last comment you read (I usually tap Like as I read each comment, just to help keep track...) and scroll down at your leisure. PM subsystem here is a trial on the phone, I usually switch to laptop if there is a long pm I need to read and craft a decent response to.

• Aurora, Missouri
18 Mar 17
@pgntwo
I do the same thing with the Like button, pgn! It makes a great placeholder! I can't even open my pm's on my phone any more. It just sits there and spools until the site times out.

•
21 Mar 17



yes sometimes happen to me as well

•
21 Mar 17
What are you using ? Mobile or Desktop, I will prefer PC but still I see lag in there which I hate....