You want to take revenge of your ex, your boss, your local politician ? Give his/her name to a storm in Europe !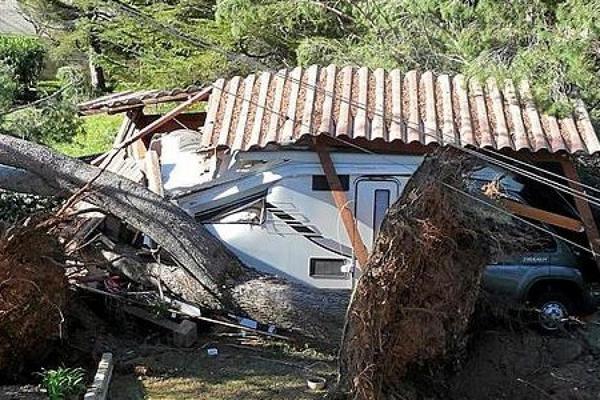 Djibouti, Djibouti
March 14, 2017 12:03pm CST
@TheInvisibleMan started a discussion asking "Why do natural phenomena "always" have women's names?" It is not true since many years ; for Northern Atlantic and Eastern Pacific cyclones are alternatively receiving a man and a woman first name, given by the US Hurricane Center in Miami ; for Europe "lows"(storms)are receiving men or women first names depending of the year. These names are given by the Berlin Institute für Meteorologie, and what is weird is that anybody can "adopt", i.e. give a name to a low vortex for the price of 199 Euros+VAT. When you think that there is only an average 150 storms per year in all Europe, it is a bargain. If you had no more house and car left after a divorce, you can test if the first name of your ex will become famous and memorable for uprooting trees, sweeping away roofs and leaving thousands/millions of people without electricity during days

. And you will also do a good deed, as the money collected will be used to train students in meteorology


. They also offer to give a name to a high vortex. It is more expensive, and sunny days are less memory impacting than storms in my opinion. I give you a link to the site of the Institute where you can check the rules and adopt a vortex. The low pressures names in 2017 are men names, but it is a bit too late to buy one. The 2018 names will be available to buy next September. Did you knew that you could officially adopt a storm ? Somebody interested ?

Lows Highs Weather Chart (current) Weather Chart (forecast)   deutsch    The team of Adopt a Vortex wishes you a successful and healthy year 2017! You can find the current lists here: Highs and Lows The allocation of highs and lows for 2017 started on Sept
9 responses

• United States
14 Mar 17
I did not know that I could adopt a storm. It would be fun to name the storm after someone who has caused destruction to the lives of other humans. Lots of those folks from which to choose.


• Djibouti, Djibouti
14 Mar 17
The discoverer of a comet gives his/her name to the comet, but it is not scientifically admitted for stars, although there are many scams selling star names, which is perfectly legal.

NAMING & BUYING STARS WHAT YOU SHOULD KNOW Updated 25th June 2005 supported by Naming and buying stars - what you should know... Other information and advice pages... supported by INTRODUCTION An enquiry that is often directed towards myself and the Societ



• Preston, England
18 Mar 17
Maybe I could just get a light breeze, fog, hail, rain of frogs, or a nice sunny day instead of a storm
@topffer

• Preston, England
18 Mar 17
@topffer
wonder if I can sue someone if their sponsored storm damages my property lol

• Djibouti, Djibouti
18 Mar 17
@arthurchappell

You should better sue directly the meteorological institute that sold the name, as the buyer will call the seller to the trial for the guarantee

.

• United States
16 Mar 17
I think that I will pass on this


• United States
16 Mar 17
@topffer
I'm glad that my namesake didn't do much damage


• Djibouti, Djibouti
16 Mar 17
@Tampa_girl7
It depends on one's point of view. Maybe the guy who bought this name does not share your opinion

.

• Guam
14 Mar 17
What a funny title.

The storm strikes back.


• Guam
15 Mar 17
@topffer
They want to be storm trooper!


• Australia
18 Mar 17
oh yes I would like to adopt a storm and maybe direct it to some specific targets .. lol ... just kidding ..


• Djibouti, Djibouti
17 Mar 17
Interesting. The problem is to send the correspondence to the right address. The last storm that did a lot of damages in France at the beginning of this month was called Zeus. A storm looks a bit chaotic today, but it was something organized 2000 years ago. The Greeks had a god for every wind : one blowing from the North, another from the East, etc. And there was a god above these gods ruling all the winds, Aeolus. You should probably send your request to him and he will transmit to the Avenger

.

• Asheville, North Carolina
16 Mar 17
Pretty cool stuff - thanks for the info.