Company for dinner - 10 females!!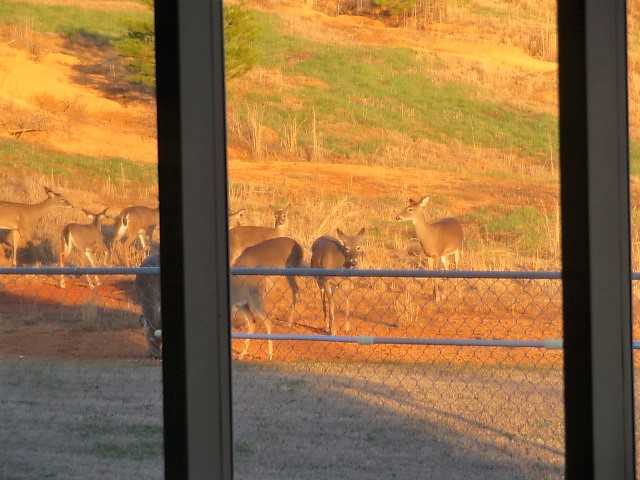 United States
March 17, 2017 2:43pm CST
My husband puts out deer corn come 'heck or high water'. We have three who are here every evening looking for that corn, a mom and her twins. Feeding three isn't bad! Yesterday evening there were more than 3, there were 10 females, all shapes and sizes. But mom and her two didn't let any of them close to the corn! The mom got into it with several of the bigger ones, all standing on their hind legs. Unfortunately the photo of that didn't come out very well as they were moving too much. All 10 were out there for a good 30 minutes and as they were disbursing to the back of the property I let Ruby out and all we saw where 10 white tails making a dash to the woods! They keep us entertained that's for sure. Photo is mine
9 responses

• Centralia, Missouri
17 Mar
lol, a flash of white bums as they ran from poor Ruby who just wanted to play! hehehe

• United States
17 Mar
She knows she can't get thru the fence!


• Worcester, England
17 Mar
deer hunting is still massive.

•
17 Mar

• Worcester, England
17 Mar
@Kandae11
because it's healthy I think and often it is organic as the deer were wild.


• United States
17 Mar
this is weird.Here in New Hampshire they told us not to feed the deer.But there was a reason for this and not sure?

• United States
17 Mar
Deer corn is a snack only not their main food.

• Goodfellow, Texas
17 Jun
Alfredo Rossi
@amadeo
- In your part of the country, you have to take care when feeding deer during the winter season. That is when deer feed is scarce in the wild, such that deer are often forced to feed on twigs and tree bark. The bacteria resident in their tummies (the rumen epecially) don't handle "rich" foods too well in that they multiply like crazy and can even sicken and kill the deer eating that"heavy" food. Wildlife specialists warn against winter feeding deer with things like corn and "greens." -Gus-


• United States
17 Mar
In the old days they would have not been so happy as my husband was a hunter most of his life. But I don't like deer meat so he gave up hunting. Now we shoot them with the camera instead. I think he enjoys them living more than he did the other way.

• Manchester, England
17 Mar
@AbbyGreenhill
I rather like venison, but would certainly not kill one for the meat.

• Canada
17 Mar
Beautiful photo. I enjoy watching the deer. We have a lot of them around here too.

• United States
17 Mar
We will never have grass back there but that's ok.

• Los Angeles, California
17 Mar
My first thought at your title was "hen party" then I saw it was a "doe party."

• United States
17 Mar
Yes a doe party for sure!

• United States
20 Mar
It's nice to know that your husband can keep all the ladies happy! And he gets to see their bums on the way out!

• United States
20 Mar
Yes, and he isn't shooing them and dressing them in the backyard.

• United States
20 Mar
@AbbyGreenhill
I like venison. I would love to have someone who's a hunter give me the meat

• Bunbury, Australia
18 Mar
They can certainly keep you entertained. We're the same watching the roos.

• United States
18 Mar
Yesterday he put out three piles and no one showed up!

• Bunbury, Australia
18 Mar
@AbbyGreenhill
Oh no! Doesn't that feel like a slap in the face? Sometimes Herc turns down his bread and I feel mortified!


• Worcester, England
17 Mar
Nice title

When my sister lived in a house on a country estate there were always wild deer around. Some were pretty tame and would take food out of your hand. Safe for them as there was no deer hunting in that area

I do quite like venison and it is a lot more healthy than beef apparently.

• United States
17 Mar
Yes it is very healthy but I can't get beyond the wild taste

• Worcester, England
17 Mar
@AbbyGreenhill
I like venison burgers