I'm Pretty Sure I'm Going To Be One Of Those Senior Citizens Who Bite People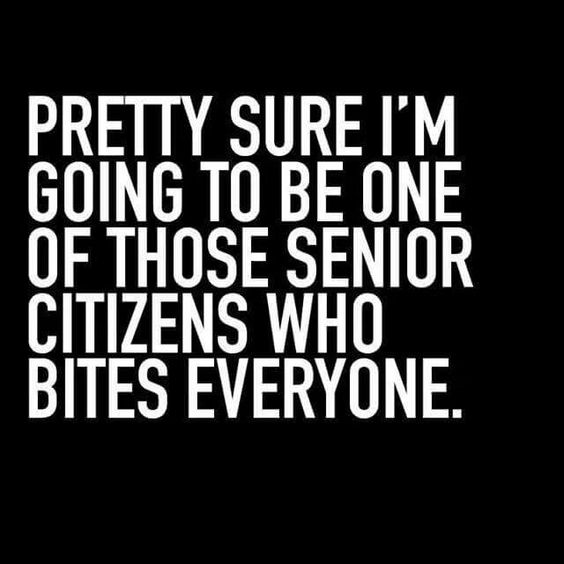 Louisville, Kentucky
March 20, 2017 8:42pm CST
Yeah, I can see it coming. In my 20's I had patience and thought everybody was wonderful. Now in my 50's I have no patience, quite a few instances of road rage, and think I'd rather be alone than with people. Case in point: Yesterday we ate lunch at a sports bar restaurant. It was NCAA Tournament Day with both University of Louisville (I live in Louisville) and University of Kentucky playing. There was a sign taped on the front door stating that due to anticipated crowds, it would be necessary for tables of 6 or more to have their whole party there before being seated. As my husband and I were eating, we watched this table of four pull two additional tables over, saving 12 seats with only 4 people there. Then of all the nerve, they saw a family get up from a booth nearby and took over that table too by putting their purses on it but not sitting at it. In the meantime there was a line of about 20 people at the door trying to be seated and these jerks were holding up many tables. I was so angry I wanted to mouth off to them but hubby reminded me it wasn't any of my business or anything that I could control. So yeah, I can see myself being one of the old people in a nursing home who bites people.
9 responses

• Boise, Idaho
21 Mar
There are jerks in the world. I doubt I would bite. Might though. I do get angry.

• Louisville, Kentucky
21 Mar
I seem to be going from zero to mad in 1.5 seconds lately. I'm officially a grumpy old lady now.

• Boise, Idaho
21 Mar
@LoriAMoore
.....Only if you let yourself be. We do have control.

• Bournemouth, England
21 Mar
I'd be too embarrassed to behave like those diners.

• Louisville, Kentucky
21 Mar
Does your mannequin friend have teeth? Maybe you could get her to bite them. Speaking of which, remember the movie, "The Pink Panther?" Does your dog bite? No. -bite-bite-bite-bite-bite I thought you said your dog doesn't bite. That is not my dog.

• Bournemouth, England
21 Mar
@LoriAMoore
She's too busy looking magnificent to show her gnashers.

• United States
21 Mar
And they ask for it. What's that common phrase: "bite me"? Happy to oblige.


• Centralia, Missouri
21 Mar
I am surprised the business let them do that

• Canada
21 Mar
Sigh, you have to learn to look the other way, been there done that and decided to ignore and be happy...Some people can be so selfish it can drive you to drink....like the Irish Pub on St. Pats day...

• Bunbury, Australia
21 Mar
I would be really mad about this too. How inconsiderate is that?

• United States
21 Mar
i would have said something.that's pure BS.

• Roseburg, Oregon
21 Mar
It was the job of the owner of the restaurant to stop that from happening.