Red Flags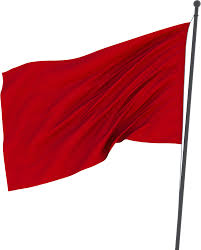 Virginia Beach, Virginia
March 23, 2017 7:17am CST
Now that my health has improved I have been trying to go back to work. I want to drive for a transportation company called "Lyft". They are like Uber but offer a little better deal. That was what we originally bought Becky's car for but she fell in love with it and gave me her old Explorer to drive. That won't work for Lyft. They require a newer 4-door vehicle. Just like before, I began gleaning Craigs List for another good deal. Now the problem seems to be that the "deals" are TOO good. There appears to be quite an influx of local vehicles marked at unbelievably low prices. Would you buy a 2009 Infinity for $2,000? How about a 2010 Escalade for $5,000? Sound like a good deal to you? Not to me. These deals all carry red flags. One that anxious car buyers will suffer for later and later and later. To me it was just a simple matter of putting 2 and 2 together to know why these vehicles are selling at such unheard of prices. It all points to one thing. A couple of months ago our area suffered from more flooding than we have seen in a long time. News footage showed thousands on vehicles submerged where only their roofs showed. A good auto detailer can go through one of these cars and remove all visible signs of it being underwater. Once they clean it from end to end and shampoo or replace the carpet no one can tell. The problems will begin to materialize one by one once the buyer puts it on the road. There are hundreds of problem that will nickel and dime them and probably drive them nuts. That's because once a vehicle has been submerged, especially in SALT-water, nothing can stop the corrosion that develops in all the electrical connections. The worst is the effect that puts on the car's computer. It begins to send false signals to other components like the fuel pump or injector system. Wiring harnesses also present connection problems. They often develop short circuits that causes lights to fail or kill the battery. It looks like I might have to wait until this influx of outstanding car deals passes. I'll just have to survive on MyLot money. It covers all my needs if I don't eat.
8 responses

• United States
23 Mar 17
We don't buy used cars so I am not sure what they are going for.

• Virginia Beach, Virginia
23 Mar 17
No problem. A lot of new car dealers were flooded then too. I can't see investing that much money in a new vehicle car that will be used as a knock around work vehicle. There would be no profit. A good used vehicle will serve just as well and be a lot cheaper. The last new one I bought was my 96 Explorer. I put way over 400,000 miles on it before I sold it last month. I thought it would last me the rest of my life. I'm sure glad i was wrong.

• Anniston, Alabama
23 Mar 17
@UncleJoe
I have never had a new car, I always buy used.

• Virginia Beach, Virginia
23 Mar 17
@andriaperry
I have had both but I would rather pay cash and not have those payments hanging over my head.


• Bunbury, Australia
23 Mar 17
It is good that you are a wake-up to this. I hope you find a better car soon. You don't want to go without eating for too long.

• North Myrtle Beach, South Carolina
24 Mar 17
Eating is over rated anyway.


• Anniston, Alabama
23 Mar 17
I bought a 2011 Kia for 2,900 from a lady but it does have high travel miles 160,000, it was only driven to work daily. He retired and they sold the car, I got it because of a friend that knew I had to have a good car, to travel in to get Tony to treatments. SO far its been an excellent way to go. .

• United States
23 Mar 17
I always believe that if it's too good to be true then that's a red flag. Be wary!!

• United States
23 Mar 17
I'm happy your health is improved. Hope that Lyft deal works out for you. I don't blame you on avoiding car issues - esp. if you think the computer could be involved. I had a 91 Cadi -- computer issues. In the end it did serve me well - but you never knew what wack-a-do problem it might kick up.

• Lenox, Georgia
23 Mar 17
I'm glad your doing better health wise. =) I don't know how people sleep at night selling anything they know won't work right in the near future. =(

• Canada
23 Mar 17
I'm glad to hear that your health is improving...we can get a cars history when we purchase, but yes a flood of really inexpensive cars would be a red flag. We haven't bought a used car in 20 years.