Thanks for the OOD lemonade!

United States
March 24, 2017 11:17pm CST
I was
almost
certain I didn't put these in my cart knowing they were out of date. Generally speaking, the company I buy these from, will put a note that says it's out of date or if it will be out of date soon. Well, these were way out of date. Says February of 2017 and it's March.. Looked on my invoice and it doesn't say anything about it being out of date. I ordered the last four they had available so can't go look on their "shelf" for reference either. So now I have three cans of lemoonade that is out of date. I drank one of them and it seemed alright but I don't want to risk it...

I might just anyway because they were about 90 cent a pop for me... I figured I'd gripe here because there's no use in griping to the company over only a few dollars.

Now off to spend $2.25 in USD for something that only costs 99P in GBP....

Yes, I love them THAT much.
8 responses

• United States
25 Mar 17
Could you contact the company and let them know? they may reimburse you?

• United States
25 Mar 17
I wanted to have proof that I wasnt' mistaken... but there's no way to prove it. I'm 99.999 percent sure that it did NOT say it was out of date, but since I have nothing to reference... I just don't want to bother. I am not even sure if they will carry these again anytime soon. It's a company out of Pennsylvania that gets their products direct from Britain.

• United States
25 Mar 17

• United States
25 Mar 17
@infatuatedbby
it tastes sort of.. flat. On a side note... I think i've stopped literacybase for now... No one ever responds to anything


• Philippines
25 Mar 17
how big are these cans? one serve? if it's only a month off, i think it's all right. i think if the cans are bulging, and once you open it the texture is strange, or it's discolored or smells funny, then i'd hesitate.

• United States
25 Mar 17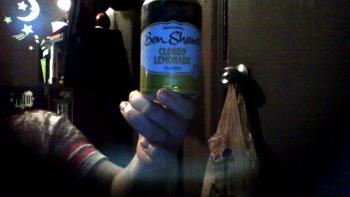 Really it just tastes "flat" I don't know how well that photo came out. I was using my laptops camera and it isn't the best... but that's the can.

• Philippines
25 Mar 17
@ScribbledAdNauseum
it looks like a single serve to me. if you're particular about the taste, then maybe you can use as an ingredient for something else? try googling "repurpose flat soda".

• United States
25 Mar 17
@hereandthere
I know that there are recipes for making cakes and using soda with it.. Something like a 7 up cake? I guess I could always crush ice up and then pour this over it and put fresh lemon and lime wedges in it, make it like a slushie.



• United States
25 Mar 17
Oh I know they have to pay customs etc so the price we pay is going to be more... i"m not bothered by that at all. In fact, 90 cents (or therabouts) isn't that much of an inflation in price at all... But yes, I'm not bothering to contact them for this.

• United States
25 Mar 17
There is always life left in stuff after the sell by date.

• United States
25 Mar 17
Oh I know but I always want to be careful.

• Banks, Oregon
26 Mar 17
I would risk it, i have before and i live to tell the tale : )

• United States
26 Mar 17
It probably is alright, but I do like to be cautious...

• United States
25 Mar 17
They're great at checking their stock, aren't they? I once almost bought refrigerated rolls that were way out of date.

• United States
25 Mar 17
yikes yikes!! Atleast stores have a very good return policy / exchange policy for stuff like that. This was online, so was a bit different. + Imported in from Britain at the same time.


• United States
25 Mar 17
I couldn't "go" but I "could" ask for a refund or something... However, as I said, not bothered.


• United States
25 Mar 17
Nope, discounted prices are usually marked clearly as well. I am not even sure what the price was exactly, but whatever it was is what I was used to paying for the item. I have to shop online. I've been told that we have a British food shop in this state somewhere, but since I don't drive...