JJ's Vinyl Madness Countdown #962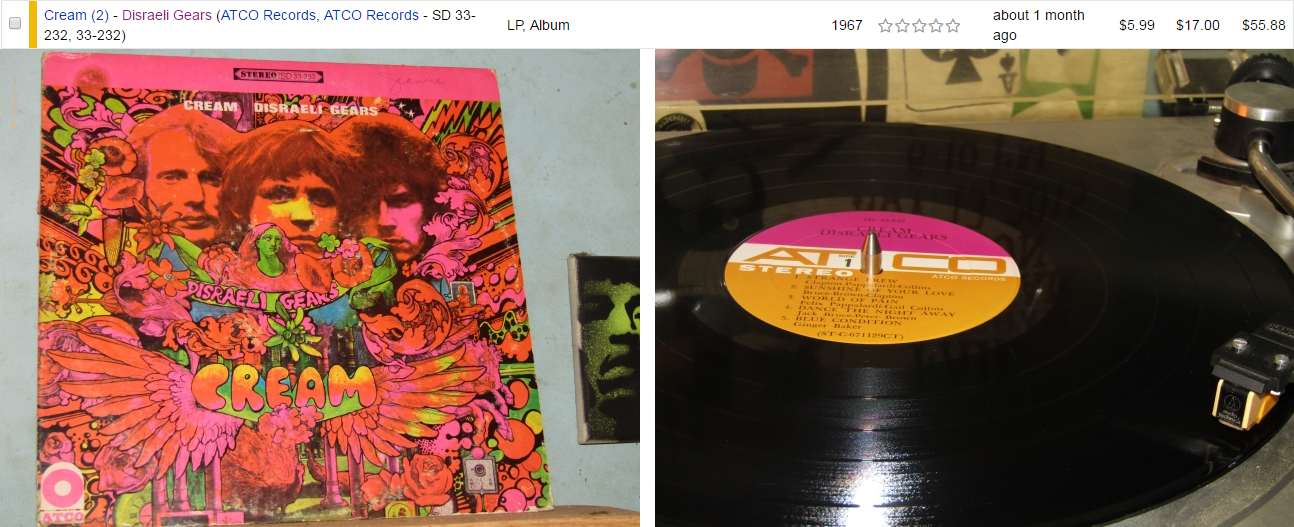 March 29, 2017 6:55am CST
Yeah, I'm throwing two out this morning to get caught up for the days I missed.

Every once in a while, a collector gets 'lucky' and comes across a deal so good, it should be called a 'steal'. A few months ago, I stumbled across a pristine original copy of Cream - Disraeli Gears for just a couple bucks. Even 'mediocre' copies cost a few bucks...good ones going for quite a bit more. Needless to say, I was a
very
happy camper that day.

Still am.


Mais uma super música. ??? FaceBook: www.facebook.com/RocksMusicas Letra: Sunshine Of Your Love Cream It's getting near dawn When lights close their tired ey...
5 responses


•
29 Mar
Pretty close...I was a few months shy of 8 when it came out

• Canada
29 Mar
@JolietJake
The top song on the day that I was born was apparently Surf City by Jan and Dean. Of course it was hard to hear the music with all of the crying that those other babies were doing in the nursery!

•
29 Mar
@Juliaacv
I think mine was Marty Robbins - El Paso


• Los Angeles, California
29 Mar
A classic! The Cream in your coughee.

•
29 Mar
I actually said 'Having a little Cream with my coughee' on facebook

Just got PM'ed there by a record shop owner, said he took in several good used albums and I need to come look...weekend trip planned now


• Canada
29 Mar
@JolietJake
Oh good......that will make for some interesting discussions next week now won't it?

•
29 Mar
@Juliaacv
If he got anything I don't already have


• Canada
29 Mar
I bet you were smiling like the cheshire cat that day


• United States
29 Mar
Cream for your coughee that you drink after the roadkill in the last post?

•
29 Mar
"I had a pet pitiful penguin And I made him watch the six o'clock news Shine my shoes" Because Scar wouldn't, of course...

• Philippines
2 Apr
All hail C-R-E-A-M-!!! I should really start with my vinyl collection. Adult life is getting in the way!