Will there be a One World Government?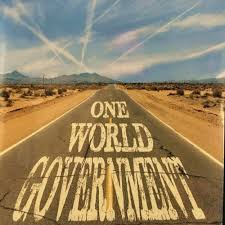 Hyderabad, India
March 30, 2017 8:25am CST
After a series of wars, technological development, hunger, strikes, poverty, peculiar diseases, international terrorism, Conspiracies, internal disturbances, political gimmicks, can we imagine the arrival of a new type of Government at Global level with a new -ism? Will there be any World Government engulfing many countries at least with a sense of sharing the poverty, hunger, health and natural elements on the planet Earth? We are actually purchasing and creating problems with our innovations, discoveries which are not useful at all for peaceful co-existence. We invented and developed technology only to make powerful guns, made laws only to save the culprits and criminals, introduce planning only to misguide the people, announce health schemes only to torture and kill as many poor people as possible with peculiar medicines and machines, invite wars to consolidate our power in our own country as people lost confidence on our leadership. Finally establishing International organizations in the context of global warming, global health, global co-existence, global peace, global harmony, Global Economy we are suspecting their own existence as has happened in the case of World Health Organization. Even the statistical figures are given a wild twist and are being viewed from the political angle. When in the recent U.S elections one candidate stated that the unemployment in U.S is 4.7%. The same candidate after losing the elections denied his own statement saying that it was 40% and it was only media which was responsible for giving such wrong percentage. I think in the context of a series of misguiding and short visioned policies the leaders in many countries have lost the confidence of the people in their own countries and various people of different countries on one day or the other may proclaim themselves as independent world nation for their peaceful co-existence driving away such narrow-minded, short-sighted politicians from their respective lands and come together to form a ONE WORLD GOVERNMENT
7 responses

• Canada
30 Mar 17
Interesting! That is what the Bible is all about. Look up Isaiah 9:6-7

• Canada
30 Mar 17
@Bluedoll
Revelation 5:10 Amplified Bible, Classic Edition (AMPC) 10 And You have made them a kingdom (royal race) and priests to our God, and they shall reign [as kings] over the earth! The government made up of Jesus and selected men and women with be in heaven. As this translation correctly uses the word "over" the earth and not "on" earth. * God chooses the individuals that will be the government * He knows who is is really interested in people and not in themselves * Being in heaven, no human can touch them * Humans on earth will have all their needs and more met by this heavenly government

• Sweden
30 Mar 17
@Bluedoll
?..Isaiah chapter 11 describes the future paradise.. Also Psalm 37.. Every one, who lives then, will be healty and enjoy life to the fullest..


A song written and performed by Herbert Maassen and his lovely wife. Please visit Herbert's website for more music. herberttheentertainer.com

• Canada
31 Mar 17
@Bluedoll
Isaiah 54:13 American Standard Version (ASV) 13 And all thy children shall be taught of Jehovah; and great shall be the peace of thy children.

• United States
30 Mar 17
I cannot see people of all countries working together for a common goal. Too many differences, too many corrupt people who would want to be in charge, and too many in it for themselves alone.

• Sweden
30 Mar 17
Good question.. The Bible has the answer!! See verse 44 in Daniel chapter 2:

Daniel 2:1-49—Navigate by chapter and verse in the King James Version of the Bible.

• Nairobi, Kenya
30 Mar 17
Though its a good idea, but I think this will never happen in a real life situation. With all greed politicians have for power? There are certain people who would feel like they are left out and compromise our peaceful coexistence.