prank for the kids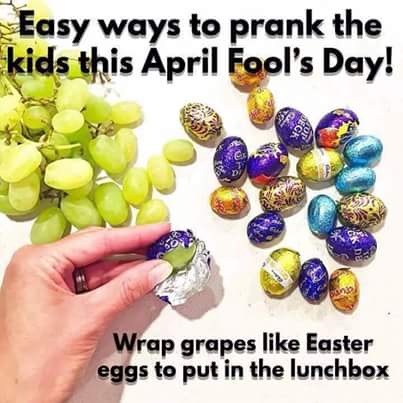 Onaway, Michigan
April 1, 2017 12:55pm CST
I think this would be a cool idea to do for kids even if it is not a prank and grapes are a very yummy treat for you to have as a snack as well. How many of you would do this and take the chocolate and enjoy it yourself and put grapes in the wrapper for kids?
4 responses


• Onaway, Michigan
1 Apr 17
I thought this would be something good to do also for a healthy snack take chocolate out wrap grapes up in wrapper.

• United States
1 Apr 17
I that is a wonderful and very healthy prank!!!


• Onaway, Michigan
1 Apr 17
My mom and uncle did a prank to my cousin one year at Christmas time told him if he was not good he would get nothing but coal in his stocking and guess what happen he got a stocking full of coal but not the real stuff the candy stuff he cried he was so upset. He stopped once they told him it was candy and he could eat it.

• United States
1 Apr 17
@Tina30219
I think my parents bought that for my sister and I once too but just for fun

• Onaway, Michigan
1 Apr 17
@shaggin
Right. Some parents like the pranks and some don't. I have never done it before and probably never would.

• Centralia, Missouri
3 Apr 17
as a kid I would have been maaaadd, lol

• Onaway, Michigan
3 Apr 17
I would have also my mom always waited til we we're older if she wanted to do something.