My smiley boy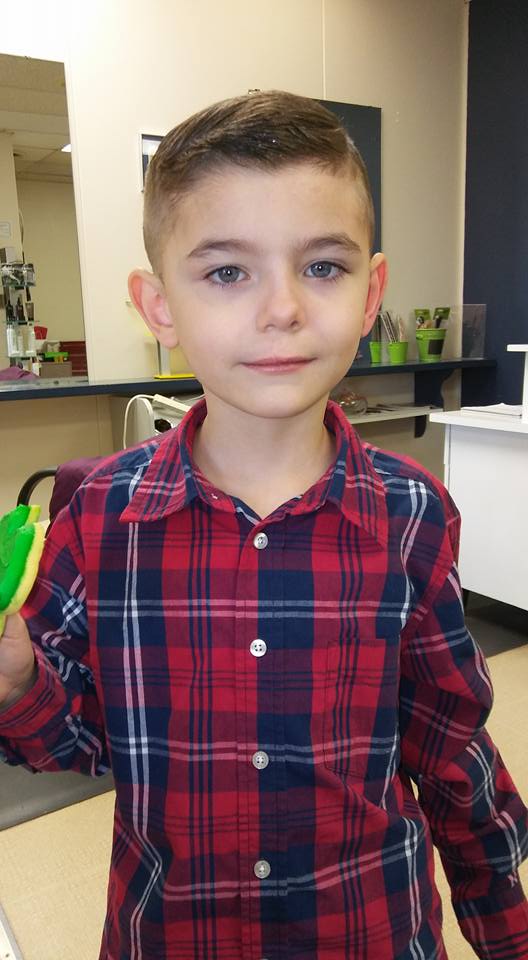 United States
April 4, 2017 8:51am CST
As I look back through my son's baby pictures I remember just how happy he always was. He still is a happy kid. He has a contagious smile, and I love that about him. I love that no matter how bad things are he finds a way to keep smiling. He's prone to his tantrums, but they are almost always short lived. He has this huge imagination and can find something to do out of nothing. I look through his baby pictures and see his chubby cheeks and giant smile and it makes me smile. It's rare to find pictures of him not smiling, I managed to get a few of all of his moods, but most are him smiling because that's who he is. I have always called him my smiley boy. Everyone always goes on about his eyes and his smile. He has always been such a happy kid and I hope he always stays that way. When he smiles it lights up his entire face you can see it in his eyes. When he laughs you can't help but laugh too because his giggle is just as infectious as his smile. He is this amazing kid, and I guess I am biased as he's mine. He has a slight scar on his lip from his cleft surgery, but it's rare anyone even notices it or thinks about it. I am proud of his smile because it reminds me of everything we went through to get it, but I often miss his wide smile as it's the first one I ever saw. I think both smiles are and were beautiful. He got his haircut recently and he was so proud of it because he chose it himself, and he posed for a picture and I couldn't help but think how grown up he looked. He's 6 but he looked so much older. He's starting to lose his baby look but he's still handsome. I can't believe how fast time is flying. I told him he would always be my baby and while most kids hate the term baby he told me he knew and that he loves me. He has this sweetness about him that I can't even describe. When I'm sick he tries to take care of me and tells me he hopes I feel better and does his best to let me rest. He is as sweet and caring as he is ornery. He loves talking to new people and making people laugh, and he's just something else. I couldn't fully describe my kid if I tried. I have yet to meet another kid like him. He doesn't care about making people like him, he's just who he is. Every teacher my son has had has loved him. His preschool teacher told me that while she loves all of the kids smiles that there's something special about my son's. His kindergarten teacher says she just loves him, and that he's very polite and sweet, but that he talks a lot, which I had to laugh at. They both said he's stubborn. I do worry that he doesn't have enough self-confidence. He is the kid that if he thinks he can't do something he won't even try, but if he believes he can do something he won't give up until he gets it. I just wish he could be the latter more than the former more often. Once he knows he can do it he's so proud of himself. I think most parents just want their kids to be happy, and that's ultimately what I want for him, along with being polite and caring. I just want him to be himself and not have to be afraid of being who he is. I want so much more for him than being the kid that grows up with the issues I have. I want him to always be confident in who he is. I often worry that the world will beat him down. I hope his smile and goofiness always remain with him. I hope he stays the happy kid everyone knows him to be. I want him to never let the world drag him down, it's ok to fall sometimes and it's ok to lose your way a little, but I want him to know that he has to get back up and keep trying. I have so many wants for him, as I think most parents have for their kids. I mostly just want him to stay true to himself and to keep that gorgeous smile planted on his face, because that's who he is and always has been, my smiley boy.
10 responses

•
4 Apr 17
He is really cute. I hope he will continue to be a sweet boy when he grows up.



•
4 Apr 17
@sissy15
He looks so cute his friends (girls) must be hugging him all the time.


• United States
5 Apr 17
@diosabella
lol thanks, he never knows how to take the hugs, he just kind of stands there with his arms down unsure as to why these girls are hugging him. It's comical.


• Houston, Texas
4 Apr 17
It is so wonderful picture . He looks so handsome and smart .

• Houston, Texas
4 Apr 17
@sissy15
I hope he will has a glorious life in the future .


• Boise, Idaho
4 Apr 17
He sounds like a very happy and normal child. You sound so proud and must enjoy writing and talking about him.

• Boise, Idaho
5 Apr 17
@sissy15
.....Sure you do. You're his mom. You have a right to be proud. He looks like a great kid.

• United States
6 Apr 17
@celticeagle
Thank you, and he is for the most part but he definitely has his days.




• United States
4 Apr 17
He is a very handsome boy there.Great face

• Bunbury, Australia
4 Apr 17
He does have a lovely smile. They do seem to 'age' with each haircut, don't you think?

• United States
4 Apr 17
Thank you, although that's not his real smile. Normally it's bigger and goes to his eyes, I caught him while he was waiting to eat his cookie, and he was just kind of placating me lol. He really does seem to age with each haircut. Kids get so big so fast.

• Bunbury, Australia
4 Apr 17
@sissy15
Yes, it's not a full-on smile is it?

• Canada
4 Apr 17
He is a handsome little guy. He is growing up fast.


• United States
4 Apr 17
Please print out your post to save for your son when he's grown. I can sure tell he's a special young man.