Is The U.S. Military Strikes Against Syria Justify?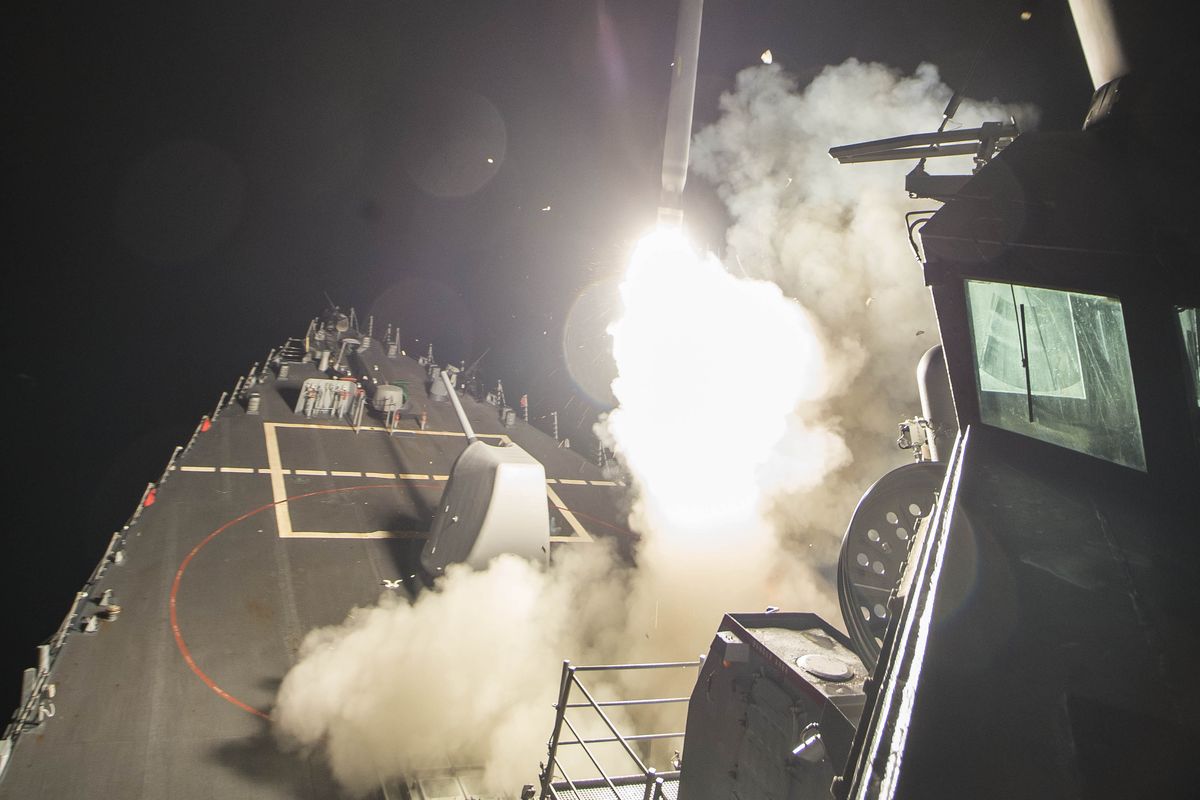 Guam
April 7, 2017 2:55pm CST
President Donald Trump has authorized the military strikes against Syria using 59 Tomahawk missiles directed on Shayrat Airbase in response to the alleged chemical weapons used by the Assad Regime killings innocent men, women, and children. Do you think that such military action against Syria is justify? Should the International Community fight fire with fire against Syria? Picture credit: http://www.vox.com/world/2017/4/6/15215014/us-strike-syria-war
10 responses

• United States
7 Apr 17
All of this could have been avoided if President Obama had intervened early on in the civil war, and if leaders of other countries cared enough to intervene. I suppose killing babies does not bother that many leaders in the world. In 2013, the Assad regime conducted its sixth chemical weapons attack on civilians in Syria, despite doing so violated the Geneva Convention. World leaders were outraged, but apparently not outraged enough. Even the United Nations did nothing to stop the carnage. I will be surprised if the International Community will help, since it is usually not common for other countries to become involved.

• Guam
7 Apr 17
Good observation and insights my friend.


• United States
8 Apr 17
It is not the US's job to intervene in all the problems of the world. If those countries can't handle their own problems, let them fend for themselves. We have enough troubles of our own that need fixing. "Killing babies" is just an emotional trigger to get backing for all the unnecessary conflicts the US get's dragged into.

• United States
8 Apr 17
@connierebel
I agree!!! Time for other countries to step up. We have done enough!



• United States
8 Apr 17
I don't think it was justified, especially since the President did this without discussing it with Congress, as he's supposed to. I really hope this doesn't grow into a war.

• Guam
10 Apr 17
Hope too that this will not escalate into World War III if Russia will make a counter-move favoring Russia.

• Green Bay, Wisconsin
11 Apr 17
If we don't it could only get worse.

• Guam
12 Apr 17
@just4him
You are right my friend.


• Anniston, Alabama
11 Apr 17
I have no idea what should have been done, but this is not the first time this happened over there.

• United Kingdom
10 Apr 17
Instead of each countries leaders being pig headed and had deployed their special forces together as one fighting force they could have wiped out Daesh quickly but they wanted the glory all for themselves. It is a disgrace and very sad. I doubt there will be peace in the Middle East for a long time to come irrespective of what our countries do now.

• Guam
12 Apr 17
@garymarsh6
An illusive dream for peace in the Middle East.


• China
8 Apr 17
My only thought here is what took the US so long to intervene as opposed to the many campaigns that they have done like North Korea, Vietnam, Kuwait-Iraq later Iraq, Libya and many more. Undoubtedly, Syria is going through a civil war but surprisingly the world just stood by arguing whether to intervene or not while innocents are loosing their lives and the country is being devastated. Yet, when Russia went in to support the dictator - the world still stood by and arguing further around the globe. Peace talks were held but to no conclusion of a peace coming soon to the damaged country. After as much as 6 times of chemical weapon attacks then, did we see the US firing the missiles into their military airport responsible for maintaining the aircrafts that used the chemical bombs . It is justifiable but what took them?

• Philippines
10 Apr 17
i think terrorism should be addressed by the forces who believe in peace.

• United States
8 Apr 17
No it's not justified. What gives the US the right to attack another sovereign country, no matter what they supposedly did? It sure looks like a setup to me; there is no reason why Assad, on the verge of winning the war over there, would jeopardize his country and his world standing by a bombing that had no strategic value. And on top of that, Trump has no right to endanger America by risking WWIII, which is what will happen if Russia decides to stick up for it's ally Syria and fight us. China and Iran will join them, and as much as I like the US military, I know we can't win a war against both Russia and China.

• Roseburg, Oregon
9 Apr 17
I think it is justify. I just want our military to be safe if there is a reaction to this.