Do You Know Patrick? No? Well, The Wild Animals Do…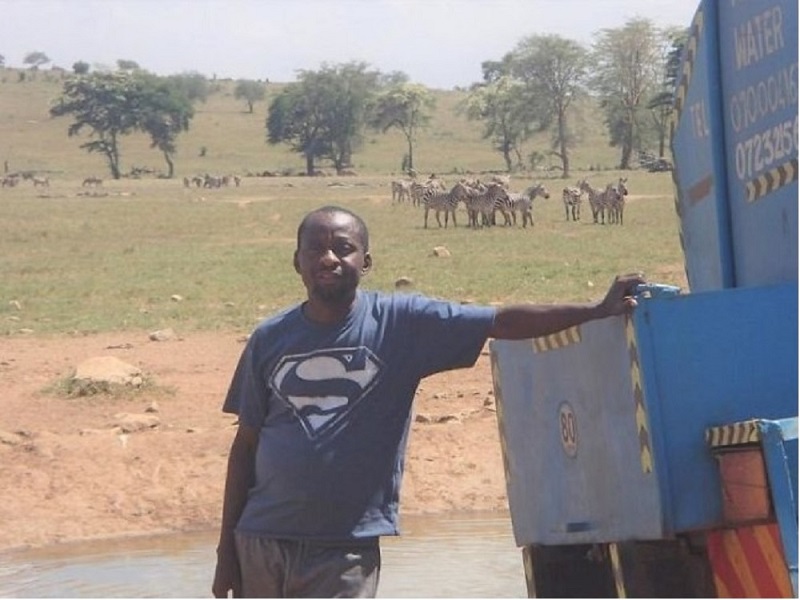 Trinidad And Tobago
April 8, 2017 9:17pm CST
'If not me, then who?' This from a man who performed a tremendous act of humanity as an everyday basis. When I read about Patrick Kionzo Mwalua, two thoughts crossed my mind. This man is extraordinary. He rented a truck to carry water for desperately thirsty wild animals dying of thirst and suffering from severe drought in Kenya. His truck could only carry 1 tank of water and makes a 40 miles journey to deliver this water to animals. He returns home only to make another trip and deliver water during the night. He ask for no help and no one helps him. He was not told to do this. He's just is a most compassionate man who is doing what he feels is right with the little he can afford. Apart from the man, the animals themselves are amazing. As they hear the water truck, they gather in groups and small herds. The can smell the water. Elephants, antelopes, buffaloes, zebras and others. There is a mutual unspoken truce where animals all suspend strife between themselves and peacefully share the limited water. Patrick is not threatened or harmed by these wild animals. Man and animal recognize each in a mutual pact. Patrick deeds bought him into the limelight overnight and the world was stunned by his generosity and self-sacrifice. Money has been donated to buy him his own truck so that he can continue to carry water to the thirsty animals. What do you think about this amazing act of sacrifice? Is there hope for man and animals to cohabit peacefully? Do you love animals and see all life as sacred? Would you have done something like this? Picture taken from public domain.
9 responses


• India
9 Apr 17
@Gita17112016
Thank you for letting us know. He's a great guy! And man & animals can cohabit peacefully

• Trinidad And Tobago
11 Apr 17
It was worth sharing. This story bought me to tears.

• United States
9 Apr 17
Just when you think mankind is hopeless, someone like this surfaces. You really made my night with this story. What a wonderful man. And he has a Facebook page! I'm going to keep up with this guy.

• Trinidad And Tobago
11 Apr 17
Thank you. We hear of man's inhumanity but hardly of man humanity. Patrick is a shinning example to us all.

• Fairfield, Texas
10 Apr 17
He truly is amazing
@Gita17112016
. There should be more like him. Here on my 16 1/2 acres, I take care of: raccoon's, opossums, foxes, squirrels, birds, stray cats & dogs, 3 donkeys and my own 14 cats.

• Trinidad And Tobago
11 Apr 17
You are an animal lover! Thank you. there is nothing more rewarding than to help save dumb animals. My mother use to say an act of kindness to God's creatures win you much merits in heaven. I love animals more than I love humans. Thank you for your amazing work, too. I am sure it is very rewarding.



• Fairfield, Texas
11 Apr 17
@Gita17112016
I'm definitely a critter-lover. My Mom has already passed and I'm sure she is the caretaker at the Rainbow Bridge and she's just waiting on me to help her out.

• United States
9 Apr 17
It almost makes up for those poaching and killing animals for their own selfish motives. I love animals, and admire that sacrifice!

• Trinidad And Tobago
11 Apr 17
Me too. Life has a way of balancing itself!


• Trinidad And Tobago
11 Apr 17
It's not something an ordinary person can do. Patrick is a blessed man.

• Banks, Oregon
9 Apr 17
That is an amazing man. Thanks for sharing and, love the pic with all the Zebra's.

• Trinidad And Tobago
11 Apr 17
Amazing man, I agree. He is unemployed and rents a truck with his own money. Wow...we very rarely see this level of sacrifice.

• United States
19 Apr 17
I think he is a kind man doing a great work of mercy.

• Bunbury, Australia
15 Apr 17
This is a lovely positive post. I am glad Patrick is getting some help to carry on his marvellous work.