Is Heaven segregated?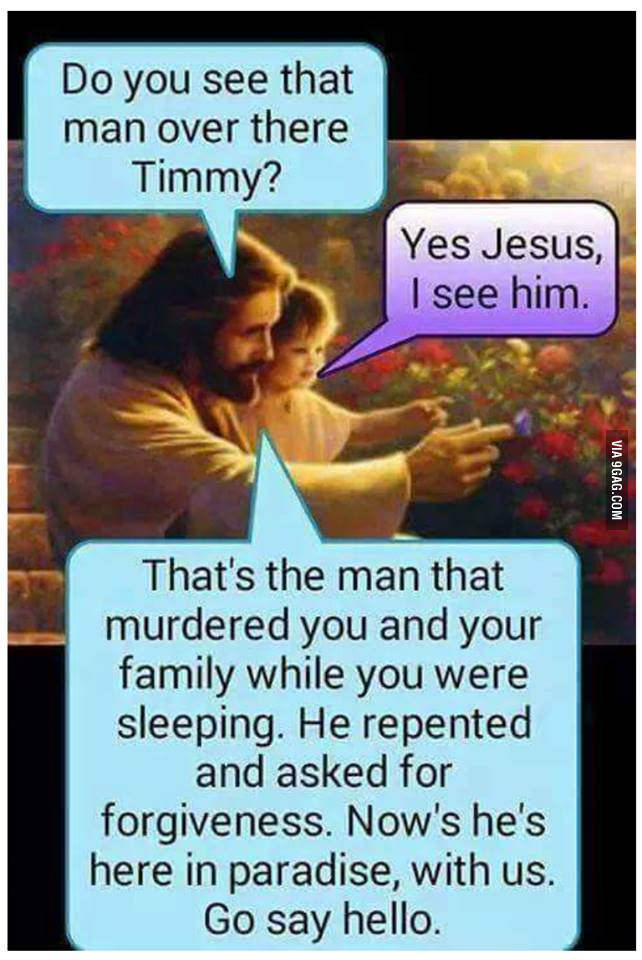 United States
April 13, 2017 7:35am CST
Not necessarily by race or whatever, but are certain people kept away from other people? Or is little 4 year old Sally going to bump into the guy that raped and killed her? After all, he accepted Jesus as his Savior and repented of his sins and was admitted to Heaven. And my ex-mother-in-law...she's sure she is going to Heaven, but I do not figure in
her
idea of Heaven whatsoever.

Not saying I am going there...G hasn't divulged that to me.

Of course, not saying
she
is going there, either, although she seems certain she is. I could see us meeting in Hell though

Just wondering...
7 responses

• Chile
13 Apr 17
Sometimes I think I want a cozy fireplace for the afterlife instead of having to learn to play a flute and a harp. And those nighties give me shivers. I could only wear them at the Caribbean.

• United States
13 Apr 17
I think the wings would get in the way while I was sleeping...

• Chile
13 Apr 17
@JolietJake
You can train Scar to shoo away the rest of the angels. Although he might find you interesting (food wise

)

• St. Catharines, Ontario
13 Apr 17
I think everyone has their own personal heaven. Mine is where I lived in the 50s-early 60s, with just my favorite relatives there...

• United States
13 Apr 17
My mom always says "My Father's mansion has many rooms", which would suggest segregation. Also, the holier you are the closer you supposedly will get to God, which would also suggest a kind of segregation.

• United States
13 Apr 17
@marguicha
My mom is big on reading the Bible, so I have to take her word for it. I read it a long time ago, but I cannot quote it like she can.

• Chile
13 Apr 17
@purplealabaster
I have read parts of the Bible, but I´m not what you´d call a Bible reader. But still, we all make different interpretations of what it is said there.


• Philippines
13 Apr 17
I'm pretty certain I won't end up in hell because my presence in hell is a great threat to whoever rules there. Heaven. Will I even have a memory of my life when I die?

• United States
13 Apr 17
Well, to make myself want to go to heaven, I will continue to believe that all who go to heaven are safe from all harm and that all the bad guys are now good guys, and we will have no memory of any of their past wrongdoings they have levied upon us. Works for me.

• United States
13 Apr 17
if heaven is truly heavenly, we should be able to be with only those we want to be with. As Mick said, "hey you! get off of my cloud!"

• Jacksonville, Florida
13 Apr 17
I don't think we remember our lives on Earth when we get to Heaven. I think it's a "new" life of sorts.