No, Donald, It's NOT "Your Military"!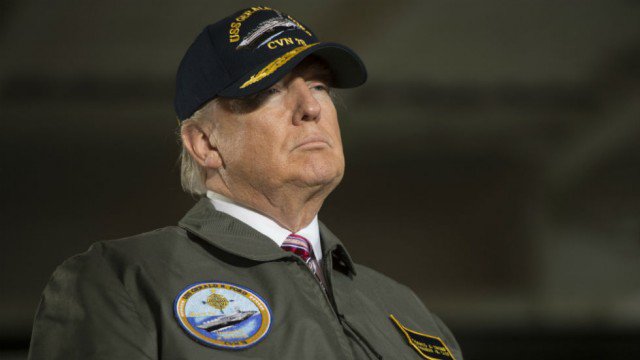 United States
April 15, 2017 1:06am CST
Gotta love these chicken hawks who do everything possible to avoid serving themselves and usually their children do the same but then they suddenly feel perfectly fine about sending other people's kids and spouses and siblings into harm's way. Donald Trump claimed throughout the campaign that he'd been against the Iraq war despite it being on video that he'd originally supported it. Now he's getting his rocks off by bombing Syria in what looked more like a PR stunt than anything else to me, right down to his attempt at fake tears about the children who were horrifically gassed and using the so-called "Mother of All Bombs" in Afghanistan. He's also had that failed Yemen mission that cost the life of a young Navy Seal and many civilians including a little American girl among other children and the bombing in Iraq that killed up to 200+ civilians, again including many children. Then he has the ba11s to brag about how "his" military is winning like never before. IT'S THE SAME MILITARY HE CLAIMED WAS DEPLETED!! I've never heard a POTUS use those words before and it's very disturbing. Now he's threatening to get us into a nuclear war with North Korea. This is what happens when we give an unstable maniac the nuclear football.
6 responses

• Redlands, California
15 Apr 17
I do not think he is a chicken hawk. Just has the inability to draw his own conclusions with the facts he is presented. So he looks for the smartest sounding chicken hawk and goes that sounds great. This to make him look strong since he has foot spurs or what ever they are called. Sure does not effect his golf game though. Must be nice ordering other people to go to war and kill people instead of looking someone in the eye and killing someone. Also remember when conservatives or Reublicans said video games and music was teaching people to be violent. Might have been them the whole time.

• United States
15 Apr 17
I meant "chicken hawk" in the sense that, like so many other mostly Republicans he took all the deferments he could get when it was his time to serve but doesn't hesitate ti find any excuse to send other people's kids to war. I don't think he looks strong, I think he looks stupid. He bombed that Syrian airstrip and it was operational again within a few hours.

• Redlands, California
15 Apr 17
@anniepa
Indeed, you mean I messed up with chicken hawk and war hawk. I did. That is what I meant. I read all day and these terms will play a number on you. He is no war hawk and he is listening to war hawks to make him look strong.. All I meant. Thanks for correcting me. I am sure you knew what I meant but so others do not get confused. War hawks not so good either this day in age for obvious reasons


• Philippines
15 Apr 17
His mind has been conditioned that he owns and controls his companies and he can do as he pleases, he has to snap out of it, he is now President of a country with entirely different rules and much much greater liability and responsibility. Yeah he has those nuclear war head codes


• Philippines
15 Apr 17
@anniepa
that's most probably how he got to the top, he's so use to it it's probably the reason he won't change, good thing our democracy has some safe guards in place like impeachment, hope the process does not happen after a nuclear holocaust


• Singapore
15 Apr 17
I think even Russia regrets supporting him! He is the worst possible US President. In just 3 months, he has bombed Syria and Afghanistan. If not for China, he would have thought nothing about bombing North Korea. Trump has too much investments in China, and he has to fear getting into a war with China. He has still about 4 years to go. By then, he probably makes the military goes into war with a dozen countries. Instead of fixing problems at home, and creating high paying jobs for Americans, he goes around the world to kill people, and make trouble for others.


• Singapore
15 Apr 17
@anniepa
The worst possible thing is to start a war in North Korea. It will kill millions of innocents, on top of all the casualties of US soldiers. The nuclear waste will pollute the ocean and perhaps wash up on the beaches in other countries. Compared to Trump, even Bush is a saint. At least Bush does not provoke other countries to go into war with US. Trump has no reason to send the war fleet to Asia, and try to provoke North Korea into using its nuclear weapon.

• Northampton, England
15 Apr 17
Sadly, as 'Commander in Chief' it probably IS his military. After telling his electorate that he was going to sort out the USA and not get involved in international stuff, he seems to have a very short memory.


• New Delhi, India
15 Apr 17
I can't understand what is happening all around