She Is Not A Weapon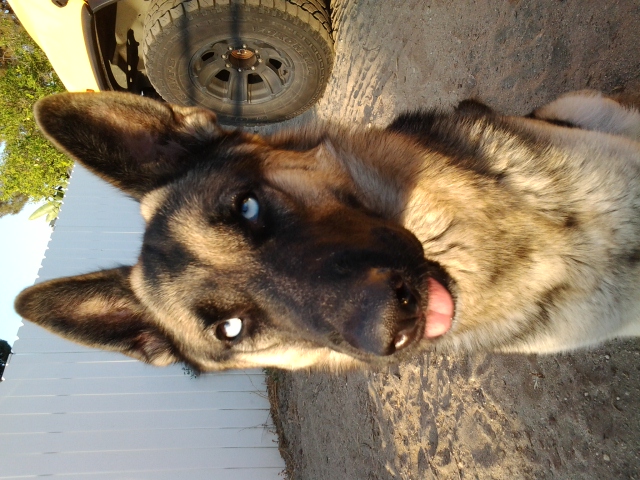 Redlands, California
April 15, 2017 9:07pm CST
Just stands up for what she believes in. I still cannot believe they marked her as aggressive. My Tristan was aggressive and thank every day we were his owners because they would have put such a remarkable being to sleep. She is so polite. Almost boring, but boy can Brooklyn get her excited. I have never seen a dog love another dog more than a human being. We shelter them and feed them. Oh, she appreciates that, but she puts Brooklyn above us in a way I have never seen. I am not mad, Brooklyn is awesome. Just weird and what a compliment to a dog so much smaller. One day took them both for a walk and they are way out there in a field. I can let them run loose. I am starstruck at how happy they are only to hear something crashing through the bushes. Luckily 10 feet in front of me. It is the break of dawn, but this person has to be drunk and was looking to sleep it off not expecting anyone to be here. Before I knew it there she was standing strong and letting out a thunderous bark. "Oh, no you do not." How did she get here so fast? It does not matter. She showed me everything that needed to be shown including chasing the dumb guy and bout to get ran over. Luckily, she listens also. Price tag on a dog invaluable. Price tag on a dog that showed we are family more invaluable.
7 responses


• Redlands, California
16 Apr 17
She is energetic, but also fixed. Did have a breeding offer, but again she fixed. We got her from the pound and that is one of their rules in order to take her.

• Singapore
16 Apr 17
@crossbones27
Wow, that is even more admirable. She comes from the pound, and yet she is not psychologically "damaged" or "traumatized" by the experience.

• Redlands, California
16 Apr 17
@scheng1
She was a bit skittish at first and probably still is thanks to my brother who loves her, but always tries to man handle her in a playful way. She used to it, but can tell she does not enjoy it. Which is my point, you could not even reach out to pet her without her jumping. Now she does not flinch when you go pat her on the head. I actually wrote a post about how she trusts us now. Dogs are amazing creatures.


• United States
16 Apr 17
As you already know, I adore your dogs Crossbones. So wish I had one like them.


• Redlands, California
18 Apr 17
You are so sweet. I will give you a puppy if we decide Brooklyn should have some puppies. We might I think, Brooklyn is my sisters favorite dog we ever had personality wise. Even though she accidentally bit her the other day. What a personality she has. I can see why Kai loves her so much and how she was really the only dog to put Tristan's aggressive attitude in check.

• United States
18 Apr 17
@crossbones27
You will? Wow I would be so thrilled Crossbones

Thanks for saying so really lifted my spirits friend. Aw, she bit her by accident did she? I can see the beautiful personality for sure. Rare blessed beloved creatures.


• Redlands, California
18 Apr 17
@TiarasOceanView
Indeed, hopefully finances improve, no need for false hope. If We Had that I would give many things away. Meaning pretty much the only way we would breed her being we could afford the puppies. She is only 3 so figure we have a few years for the world to change and if it does not they we may all be in trouble. I would so give you one of her puppies. Need good people to have good surroundings.


• Philippines
16 Apr 17
She is definitely a guard dog, I hope the dog doesn't do much harm to your visitors.

• Redlands, California
16 Apr 17
No, she is nice and never even seen her lose her temper. I have seen Brooklyn lose her temper, but not Kai.

• Colorado Springs, Colorado
16 Apr 17
I was going to say, I'll bet she'd defend the hell out of you.

• Redlands, California
16 Apr 17
Indeed, she does love defending more than anything. I am not sure how that works considering she is just so nice to anyone she meets.

• Banks, Oregon
16 Apr 17
Pretty dog and, she looks nice, you will never have a better friend than a Dog.

• Redlands, California
16 Apr 17
Indeed, they just look mean. People are still scared of them by looks. Cannot blame them it is a bit uncomfortable to meet a dog like Kai out in the open. Mindset not known and all. I get it is what I think I am trying to say. lol

• Tucson, Arizona
16 Apr 17
hey they are part of your family, anyway my dog is

• Redlands, California
16 Apr 17
I always thought so. Just saw it one day being so blatantly clear. Something life does not show often Glad you see it or have seen it also.