They are slowly changing colour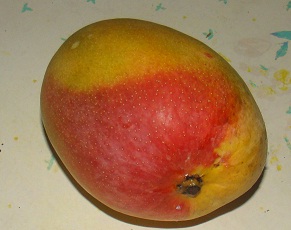 India
April 17, 2017 5:19am CST
Happy to see mangoes turning colour. We had plucked them a few days ago. They are plucked when they are green and now I see them changing colour. Unless they have colour all over they will not be fully sweet. Must have patience. Just tasted one - delicious. You do get mangoes in the market but most are artificially ripened. What's cooking at your end?
10 responses


• India
18 Apr 17
Unless they are fully ripe they are not marketed.

• Singapore
18 Apr 17
@allknowing
No, it does not work this way. Nearly 90% of all the fruits and vegetables come from elsewhere, and they are put in supermarkets as soon as they can. Some mangoes are ripe because of long distance between Bangladesh or Australia to here, and some are not ripe. If we buy green mango, we can use for cooking or just wait for it to ripe.

• India
18 Apr 17
@scheng1
That is taking a risk if you are buying unripe mangoes.



• India
18 Apr 17
I am busy these days. This is the first year that we could sell some - while they were green. We have kept some for us which I have been distributing to friends and neighbours too. The whole house is smelling of mangoes - a pleasant smell


• Guangzhou, China
18 Apr 17
@allknowing
That's great you can sell them. I hope you have a good deal


• India
18 Apr 17
@youless
They were plucked and for which I had to pay. All in all it was a good deal. This year even could sell jack fruits our very first sale in all these 26 years.


• United States
18 Apr 17

• Philippines
1 Sep 17
I don't like artificially ripened mangoes. I want naturally ripened. We are just cooking some fish for lunch

• India
1 Sep 17
We have our own trees and the mangoes become ripe on their own. You just need to pluck them when they are fully mature and keep them wrapped in straw or paper. Perhaps looking at the colour of the mango in my picture you thought it was ripened artificially. You are wrong there.

• Philippines
1 Sep 17
@allknowing
Is that a small mango? We call small mangoes indian mangoes. I love the longer mangoes when ripe. I like the indian mangoes unripe and green


• India
17 Apr 17
If you let them on the tree until they change the colour you will not get any (lol)


• India
18 Apr 17
I have 3 mango trees. Yes they are a mixture of yellow and bright orange.


• India
17 Apr 17
As long as they are not artificially ripened, all is well.

• Hyderabad, India
17 Apr 17
I am feeling mouthwatering. They have not entered the market. I like only BENISSA variety.

• India
17 Apr 17
These are benett alphonso no less than the alphonso