Conspiracy Theory & the JFK Assassination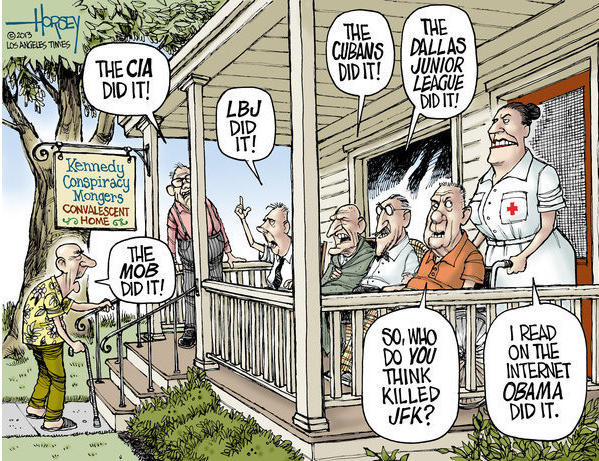 Oklahoma City, Oklahoma
April 18, 2017 2:11pm CST
On an episode of
NASA's Unexplained Files
, people reviewed some newly declassified documents that indicate that President John F. Kennedy had sent a letter to the CIA (the US government's Central Intelligence Agency) asking them to send him all their secret information about UFOs (Roswell, Area 51, etc.)---
ten days before he was killed in Dallas, TX's Dealy Plaza

https://www.sciencechannelgo.com/nasas-unexplained-files/jfk-ufo-conspiracy/ Do you think it was just 'lone gunman' Lee Harvey Oswald? acting out over JFK's Executive Order to Change the money-base? Was there a conspirator on the Grassy Knoll? Was it Alien Invaders from the CIA? Call the Men In Black!!?
4 responses

• Chile
18 Apr 17
I don´t think about what happened in the past. I´m worried about how things will end in the present.

• Oklahoma City, Oklahoma
24 Apr 17
But "those who don't 'learn' from history are doomed to 'repeat it!'" Maybe our president is Donald Trump for the self-same reasons it was JFK back then!

• Chile
24 Apr 17

• Oklahoma City, Oklahoma
25 Apr 17
@marguicha
Tell me what you find!



•
5 May 17
I absolutely think he was shot from the grassy knoll. But it had nothing to do with Aliens.

• United States
19 Apr 17
I'm generally
not
a conspiracy theorist, but I don't think Oswald shot JFK any more than I think Justin Bieber shot him. I have always argued that Kennedy could
not
have been shot from behind because when he emerges from behind the sign in the Zapruder film he's holding his
throat
not his
neck.
There was also an article in the Dallas newspaper (I love going through old newspapers) that featured an interview with the ER doctor who called Kennedy's wound a
throat wound,
NOT a "neck wound." (All of that, of course, is moot, considering the fatal shot.) BTW, I love the cartoon. Yeah, Obama did it.


• Philippines
19 Apr 17
JFK's assassination will remain an unexplained mystery until time immemorial.