Marsha's Log: Killian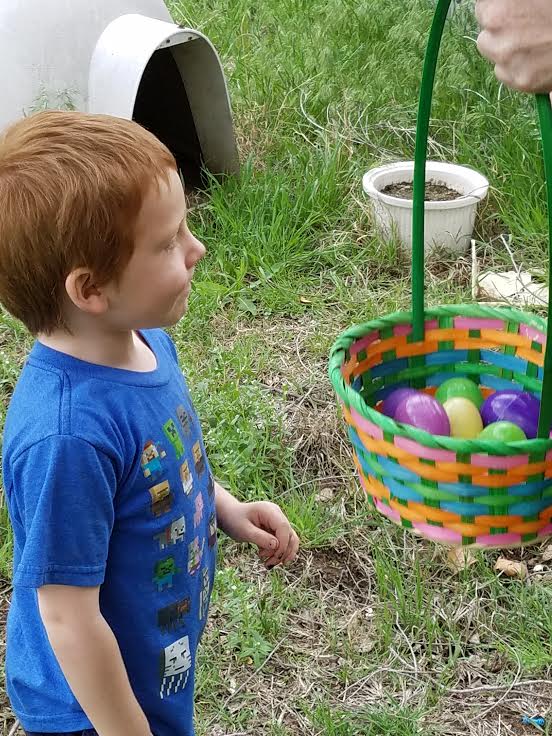 United States
April 20, 2017 9:40am CST
Babysitting day 2 this week and I only have Killian today to watch since they will be home from work before the other 2 get of out school. He's currently sitting on the couch wrapped in a blanket and watching game videos on the wii gamepad. It's pretty easy to watch just him as he easily entertains himself. I loved this picture that I got of him on Easter as Aunt Elizabeth helped him count the eggs in his basket. He will turn 4 on June 26. I really don't look forward to going home.....I have to rush from here back to town in time to get one grandchild from school at 3:10. Then it's to the bus stop to pick up more grandchildren at 3:40. I might be able to sneak in a nap, if I'm lucky, before having to get Jasmine to work at 5. sigh...... Plus mom has some place she wanted to go at 4 but I just had to tell her not today. How is your Thursday shaping up?
8 responses


• United States
21 Apr 17
We've never done a diaper cake but my oldest one did pretty good making one for my youngest daughters baby shower.

• United States
25 Apr 17
@HazySue
I'm sure she did and appreciated it much as there was a lot or work putting together the whole thing.



• United States
21 Apr 17
Just about anything I do tires me out.

• United States
25 Apr 17
@RubyHawk
One day I slept until after 10 am...that sure was nice other than shortening my day.

• Canada
20 Apr 17
That is such a cute picture!! I am working all day today! Sounds like you have a busy day a head of you.

• United States
21 Apr 17
He's pretty cute....I was going to say he's my only red headed grandchild, but I have a grandson that will be 10 this year that is a red head, but he lives out of town and we rarely see him.

• Canada
22 Apr 17
@marsha32
that is cool. It is hard when you don't get to see them much.

• United States
21 Apr 17
I rode the bus, made a yummy dinner and I should be in bed. Tomorrow is Friday, Yay!!

• United States
21 Apr 17
Since I usually babysit on Friday and the kids are on early release from school, I keep find myself thinking it's Saturday. I'm glad it's not as that gives me another day to finish that guilt challenge yet.


• United States
21 Apr 17
I think I would love a day that I could just lay in bed and sleep all day!! I don't want it forced by being sick, just want rest.

• Riga, Latvia
20 Apr 17
Not as busy as your. Cute kid. You sound awful busy. Hope you can get a nap in there somewhere

• United States
21 Apr 17
Oh, I did take a nap after picking up grandkids from the bus stop. It happened my daughter worked the day shift so I didn't have to take her to work and pick her up in the evening.

• Winston Salem, North Carolina
20 Apr 17
I've had a fairly easy day today I spent half the morning driving to get home from visiting my husband who is working out of town, the afternoon was spent enjoying our co-op finale at a local park. However, now that I'm home I need to scurry around and get some things done!

• United States
21 Apr 17
I'm trying to have a take it easy day today with the mentality of what I get done is what I get done and not stress over things.

• United States
20 Apr 17
Sound busy this afternoon.

• United States
21 Apr 17
most days I am just on the go all day...it gets very tiring.