HA!! I finally found it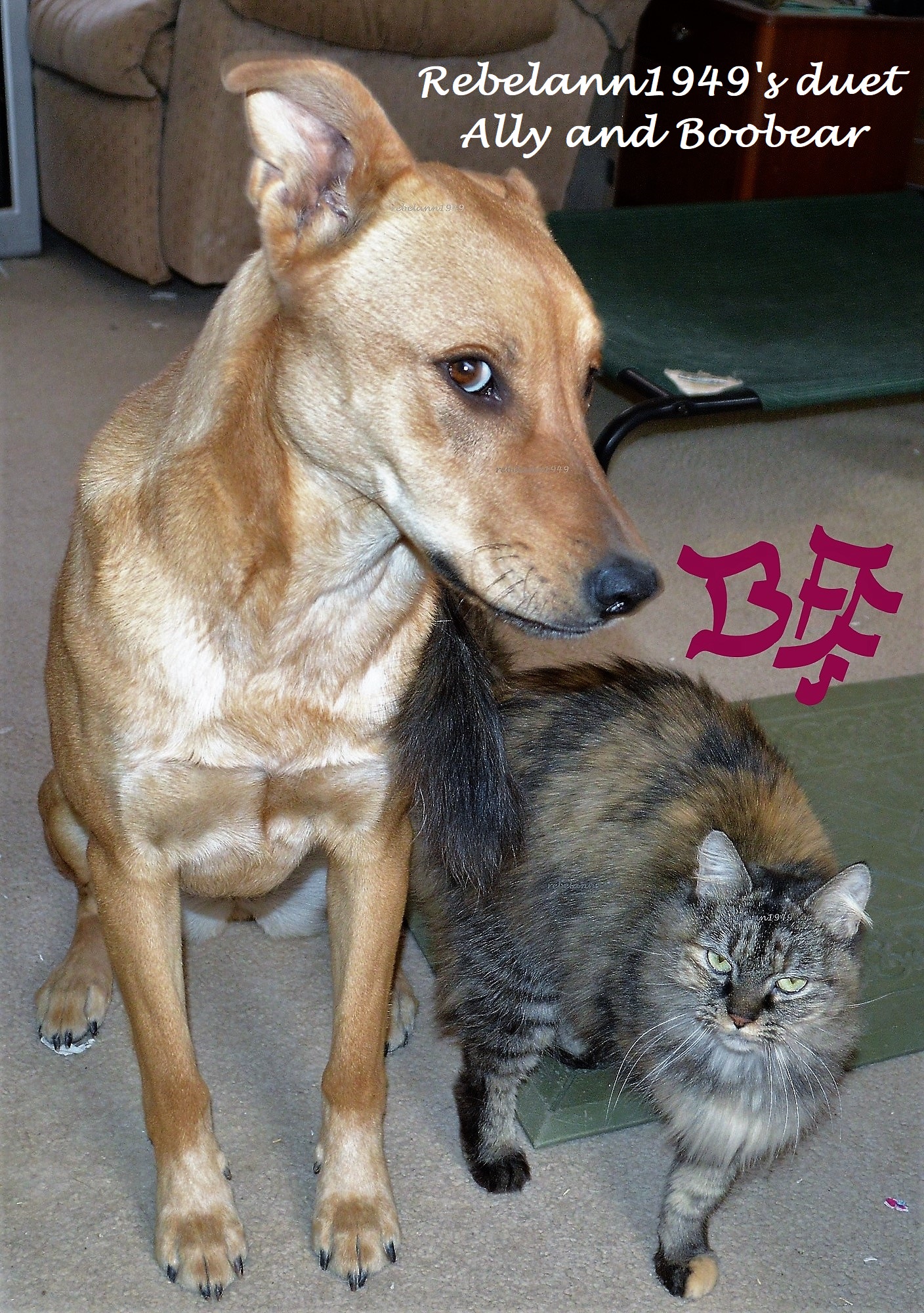 El Paso, Texas
April 20, 2017 3:24pm CST
I have tried several times to explain how Boobear shows her affection. Finally I found a shot I had previously overlooked that shows what she does. Can you see Boobears tail? She carries it high and uses it to pet us. Mostly she pets Ally, her favorite pet. Oh, believe me, she is petting Ally in this photo, I call it the kitty waltz. Should I be insulted that she prefers Ally? Well, I now have Meetzee and Max, they just love to love up on me, they are truly affectionate with me but they don't do the kitty waltz, they'd rather try to trip me

7 responses


• El Paso, Texas
9 Aug
I just have to wonder what I did to spite her, she gets really good food and is always safe from any danger. I guess she wanted to be Queen of the "castle"

• El Paso, Texas
9 Aug
I'm not sure she did
@vandana7
when I was working she cozied up with the pups.


• Canada
20 Apr 17
What a beautiful picture. Bookmark loves Ally..so sweet.

• El Paso, Texas
20 Apr 17
Thank you ...... now I'm curious, what exactly is bookmark?

• El Paso, Texas
21 Apr 17
No problem
@Happy2BeMe
I really hate when that happens, I don't mind a spell check but the stupid thing shouldn't change words.

• Canada
21 Apr 17
@rebelann
it is always changing word...Sometimes it is completely ridiculous the words it will replace it with.



• El Paso, Texas
21 Apr 17
Thank you Well, ok, maybe not insulted but boy does that hurt my feelins, sometimes I just wanna cry.

• El Paso, Texas
22 Apr 17
Thanks
@DianneN
cat's wound people without ever using claw or tooth.

I wasn't being super serious, I had intended to add the silly imoji but I keep hittin the comment icon instead, go figure



•
3 Jan
You have quite a bunch there. They must entertain you a lot.

• El Paso, Texas
3 Jan
Yes, all of them are very entertaining


• Petaluma, California
7 Aug

My dog just thinks kitties want to play "chase".

• El Paso, Texas
7 Aug
Many dogs are like that. Ally will chase stray cats if they happen to get into her yard.

• Ponce De Leon, Florida
20 Apr 17
Harley has tripped me multiple times but I blame it on her being a puppy.

• El Paso, Texas
20 Apr 17
Puppies do silly things whereas cats do things on purpose, as if they're hoping to trip us so they can laugh.