He has a different fish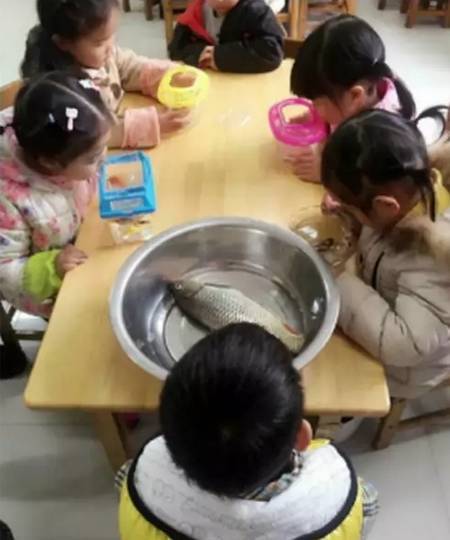 Guangzhou, China
April 21, 2017 2:01am CST
It is very interesting. The children were told to bring a fish to the kingarten to observe next day. Most children brought the gold fish or tropical fish. But this little boy brought a big fish to the kingarten. I don't know why his parents gave him such a big fish. Anyway, he shall be proud of it

10 responses

• Roseburg, Oregon
21 Apr 17
Maybe he likes bigger fish so that is what he brught.

• Philippines
21 Apr 17
Maybe his parents fished it out from the Yangtze river, looks like it's ready to be cooked


• Philippines
21 Apr 17
@youless
he should proceed to cooking class

, if it's alive or not yet dying it should be upright in water

• China
21 Apr 17
Maybe the kid's parents weren't clear about what type of fish the kindergarten needed.The fish looks like crucian carp.

• Philippines
21 Apr 17
It's the school's fault. They didn't say what kind of fish. The kid didn't do anything wrong nor does his parents.

• Australia
21 Apr 17
Exactly. I hated it when things like this happened when my kids were small - I mean, unclear instructions from teachers/school. I would always make it a point to go through the troubles of finding out the right instructions as much as I could hoping my efforts would at least prevent or minimize the possibility my kids would face embarrassment or be in a situation where they would stand out from the other kids unnecessarily.

• Philippines
24 Apr 17
@sishy7
Exactly my point. And then the embarrassed kid gets to be bullied by his classmates because of the unclear instructions.


• India
21 Apr 17
He stands out.


• India
22 Apr 17




• Singapore
24 Apr 17
@youless
True. The school teacher should have mentioned a week earlier. Anyway, getting a gold fish just for observation is a stupid idea. They might as well get an aquarium in class, and the teacher can teach them to take care of the fishes.

• United Kingdom
23 Apr 17
I hope they turned it into a cookery lesson and pretty quick before it went off!

• China
21 Apr 17
Maybe his parents are busy with their job or business. If they happen to be the fish sellers, this would be the best and easiest approach. Besides, not all parents are culturally up to the level of teaching children how to observe. The idea might never appear in their mind. The big fish well serve the purpose of observation. He should be OK.