Giving to others From the Heart is a Beautiful Thing.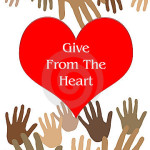 April 21, 2017 3:59am CST
Many people think that giving has to involve money but many times it does not sometimes people just may need a smile a hug a listening ear a shoulder to cry on they may just need you to be there so just because you do not have money do not think that you have nothing to give to Help someone else that is far from the truth. Many people may just need you to reach out to them and be a friend to them. Giving comes from the Heart so in whatever capacity you give as long as you are genuine about it is greatly appreciated.
6 responses


• United States
21 Apr
Very wise words you have presented here. We should all take note.