Poetry: What are your thoughts ?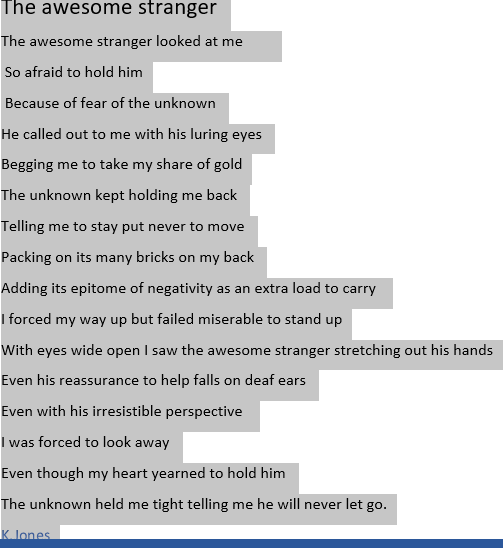 Jamaica
April 21, 2017 10:38am CST
Have you ever been in a position where success is staring you right in the face and you feel like all you have to do is stretch out your hand and grab it? Then you just feel like there is something preventing you from taking the steps you need to make it possible. Of course you try, but then you feel like you are not trying hard enough. Read my poetry. Let me know what your thoughts are.
6 responses

• Canada
24 Apr 17
I like it! It is well put together. It has a bit of mystery as to who or what is that awesome stranger.

To be honest success has never come easy to me. It has always required a lot of hard work.

• Canada
24 Apr 17
@Wowtalk
Some might even see God in your poem as success is not really spelled out in the poem.

• Jamaica
24 Apr 17
@1hopefulman
I like when persons get different interpretations, It feels good. My sister thought I was about to ran with another Guy



• India
1 May 17
your poetry has vivid imagery...you need to cross your comfort zone to achieve success

•
27 Apr 17
wow i really like your poem i could sense the sincerity of your words and the feeling behind it keep up the good work!


• Guam
21 Apr 17
Nope. I already achieved my dreams in my life. I'm happy and contended in my life.


• Fairfield, Texas
21 Apr 17
An excellent poem
@Wowtalk
. Don't be afraid to step out of your comfort zone. I am a published poet as well as have several here at this site. This is a good platform for showing your work because you will get comments that will help as well as criticism (which is always good). Be versatile in your type of poetry: sonnets, limericks, haiku's, narratives, rhyming., etc. A person who does excellent varieties of poems at this site is
@jaboUK
. You may want to look her up.