TITGs The Foreigner at it's Comic Finest - My Favorite Play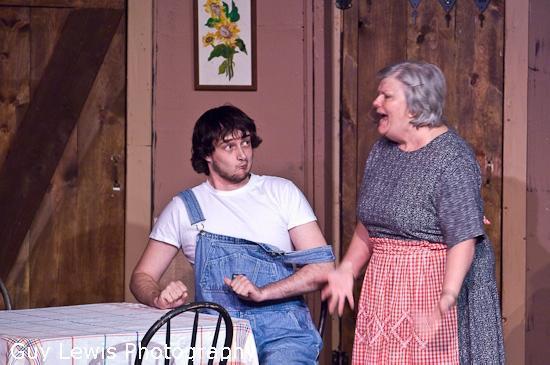 Banks, Oregon
April 24, 2017 3:46am CST
That was the headline for the Forest Grove News-Times review of my first full length play at Theatre In The Grove, followed by this qoute. "See this play twice its worth your rapt attention" "This is one of the funniest American plays and the TITG cast has it down perfectly." "Chris Bergstrom is perfectly cast as Ellard, the loveable dimwitted boy who teaches Charlie to speak English" These are just some of the nicest things ever written about me and my performance onstage, it really was a very enjoyable show to be apart of, i never thought i would be able to learn all my lines but i did and not only did i memorize my lines but i was able to really become the charachter of Ellard Simms. The role of Ellard Simms is that of a dimwit with a real southern charm, in one of my favorite scenes he tries to teach Charlie the lead how to use his silverware. "Don't tell me you've never seen a knife. Knife. That's a knife. Use it to cut things. Cut things. (Mimes) Like - ham. If we had some ham. Or bacon, or sump'm. I can't believe you don't -. (Looks around for help. There is none.) Or butter. If we had some butter, you could use it to spread it on -. You don't really need it. No, you don't need it. (Demonstrating.) Put it down. Bad. Uh-. (Charlie now holds a spoon.) Yeah, now that's your spoon. Use that to put sugar in your coffee, if you had some sugar, here. And you had some coffee - shoot. I don't really know why we got all these things. But your fork - man, I wish somebody else'd help you with this, 'cause I don't know anything, but - I think that your fork - your fork'd be the main thing you'd use. 'Cause you got your eggs, and you got your grits. Y'see? Eat 'em with a fork, just like we been doin'. Can - you - say - "fork"? "Faw-werk"? "Faw-werk." [...] Two parts. "Faw-werk." [...] Right. Put 'em together. "Faw-werk" [...] Good! That was great!" The photo is of me in June 2009 playing the role of Ellard Simms in Theatre In The Grove's performance of The Foreigner.
10 responses

• Roseburg, Oregon
24 Apr
That is a good picture. Thanks for sharing this with us.

• Banks, Oregon
24 Apr
Really loved doing that play, i would do it again in a heart beat!!

• Banks, Oregon
24 Apr
That was a very funny play lol.

• Banks, Oregon
24 Apr

• Banks, Oregon
24 Apr
@chrissbergstrom
I think it was mine too, also liked Harvey, that was the first one I seen you in.

• United States
24 Apr
How I wish I could have been there to see this! It sounds wonderful! By the way, do you live near Forest Grove? Back in the early 80s, I had a pen pal from there. We were as close as sisters but never did get to meet in person. I had been planning a trip out there but life jumped in and prevented my trip. So I just wondered when I saw the name! (and I LOVE the photo!)

• Banks, Oregon
24 Apr
Yes I lived in Forest Grove for quite a few years, did 7 plays at the Theatre In The Grove here

• United States
25 Apr
@chrissbergstrom
that's so cool! There is nothing like live theater. Musicals have always been my favorite, but if there's a way to see live theater, I'm there!

• Banks, Oregon
25 Apr
@CRK109
I Love musicals, i just don't like being in them, it is so much work and i have two left feet and can't carry a tune, but i was roped into doing three different musicals two in the ensemble, and one where there was speaking roles to and i got away with singing badly......


• Colorado Springs, Colorado
24 Apr
Wow, that's cool that the reviewer specifically mentioned you.

• Banks, Oregon
24 Apr
Yeah it really helped my confidence

• Asheville, North Carolina
24 Apr
How wonderful to get recognition like that. Congrats!

• Banks, Oregon
24 Apr
It really helped boost my confidence

• Green Bay, Wisconsin
24 Apr
That's a great review. The play sounds like a lot of fun.

• United States
24 Apr
Wow! Awesome. Are you still active in theater?

• Banks, Oregon
24 Apr
I have not did a show in about 4 or 5 years I think I will again just waiting for the right show.

• United States
24 Apr
Great reviews and picture

• Banks, Oregon
24 Apr
Thank you it was alot of fun

• United States
24 Apr
Good memories for you! Sounds like it was a great time!

• Banks, Oregon
24 Apr
Lots of wonderful memories from that time in my life

• United States
24 Apr
So nice that you got on stage. Do you still participate in the theater? Quite an accomplishment. What a great part you had Chris.


• Banks, Oregon
24 Apr
I did 7 shows with that Theatre but have not been on stage in about 5 years