Gratitude Challenge Day #860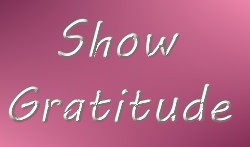 United States
April 25, 2017 10:24pm CST
Hey there, everyone. I'm actually going to turn in early tonight, but I wanted to post the Gratitude Challenge first. 1. I hung out with a friend of mine today; it was a nice to break my routine for a few hours, plus we don't get to hang out often. 2. I had Subway today, sooo good. 3. I took a power nap before starting on my work today. 4. I watched WWE Raw last night, and WWE Smackdown tonight. 5. We're gonna be watching my best friend's son (we used to babysit him) tomorrow, so I look forward to spending a few hours with him. :) Okay, these late nights are taking a toll on me, so I'm gonna call it a night. You all have a good night/morning and take care. Photo Credit: I made this graphic using PhotoImpact 6.
7 responses

• Agra, India
26 Apr 17
Sounds like a great day.. I love to read your posts

• Agra, India
29 Apr 17

• United States
29 Apr 17


• United States
26 Apr 17
Yay for baby time tomorrow. Have fun. Goodnight

•
26 Apr 17
Cool to hear that. Yeah, gratitude is a great way to defeat those demons in your mind that remind you of that bad stuff that's happening in your life. Totally get the awesomeness of eating your favourite snack. Mine are chocolates & pizza. Mmm... I'm happy I could complete this application for a captionist position I was interested in. An online freelance gig. Hopefully I can get in. Mom made some nice treats too. So that's cool. :D And it's nice relaxing under this AC I have. Summer over here and it's nice when the room's cool. :) So yeah, those are my tidbits of happiness for today. :D

• United States
29 Apr 17
Yep, sometimes it's good to think of the things you're grateful for, and what makes you happy. I'm glad you have a lot to be grateful for, esp. the A/C at this point lol. We're in spring, with summer coming up, and it felt like it was almost 90 degrees today.

• Green Bay, Wisconsin
26 Apr 17
Taking a break from your regular routine helps get you out of any rut you might be stuck in. Power naps are wonderful! I'm already thinking about one. Have fun watching the kiddo.

• United States
29 Apr 17
Sometimes I need to! I had mentioned fixing my sleep schedule in other replies, but maybe I also need to start going for walks or something again. And I enjoyed watching him. He drives me nuts but I love him sooo much. He's the one I used to babysit full time. Thanks! :)

• India
26 Apr 17
Looks like you had a great day... Good luck with babysitting..

• India
26 Apr 17
Hope you enjoyed your day..

• Defuniak Springs, Florida
26 Apr 17
Sounds like you are having a good day. Sleep well.